Inexpensive Way To Convert Your Laptop To A SSD Drive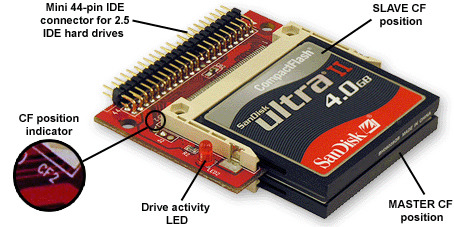 So you've been hearing about the latest SSD drives, and you want to get on board. But you don't want to drop the kind of cash that they're going for. Here's a relatively inexpensive way to convert your laptop hard drive into a SSD drive.
The Addonics CompactFlash Adapter will allow you to connect up to two CompactFlash cards where your 2.5" hard drive would normally sit. Granted, this isn't going to let you achieve the same capacity or speed that we're seeing from some of the latest SSD drives, but it's still pretty cool.

This is also a great idea for DIY projects such as in-dash PC modding. The flash memory is going to hold up much better to the harsh conditions of the road far better than a regular HDD. These come in a variety of choices such as SATA and IDE as well as single and dual compact flash cards. Price starts at $30.
Addonics CompactFlash Adapters Replace Notebook Hard Drives [via gizmodo]