Indiana Jones Giant Radio Controlled Ant crawls onto the scene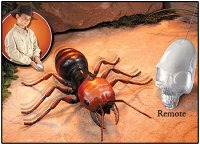 Whether you liked the latest film in the series, Indiana Jones and the Kingdom of the Crystal Skull, one thing is for certain. The franchise is alive and well. The movie sold pretty well at the box office and there's merchandise all over the place. Take this toy, for instance.  
The Indiana Jones Giant Radio Controlled Ant encapsulates the spirit of the movie pretty well. In fact, you use a remote that's in the shape of a crystal skull in order to control the ant. You can move this scary ant around and its movements mimic those of real ants. It even has a mandible that works in a scissor movement.
Sounds scary. But hey, if your kids like bugs or you're an Indy fan, this is a no-brainer to add to your collection. The toy takes AA batteries and will cost you $34.98. Not too bad for a huge remote controlled ant.
[via Coolest Gadgets]