Immersion unveils haptics for touchscreen computers with TouchSense 2500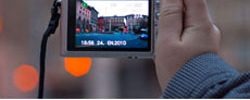 Immersion has been behind the scenes in many markets over the years offering feedback through all sorts of methods including vibration of the sort used in gaming controllers. Immersion has announced a new haptics feedback solution for touch screen computers called TouchSense 2500.
TouchSense 2500 is part of the new TouchSense 2000 series of solutions that will power touch effects in computers according to the company. The 2500 solution is a drop-in IC solution that can be used in all manner of touch devices including computers, tablets, slates, netbooks, notebooks, and AIO machines.
Immersion offers the TouchSense 2500 solution is multiple interfaces for different product types including I2C and USB with support specifically for Windows 7 and Android. The haptics processor draws little power so it won't impact battery life much. The 2500 will first surface in the libretto w100 from Toshiba reports Immersion.