Imagine flying with 21-inch touchscreen seatback displays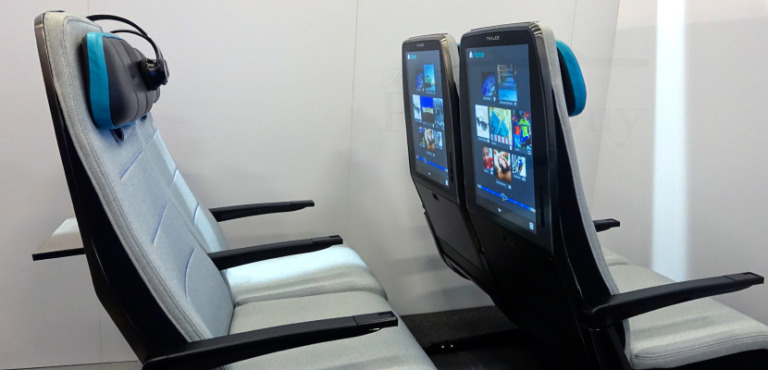 The state of in-flight entertainment has been steadily improving over the last few years, with WiFi increasingly being offered by more airlines, and a wide range of movies and TV shows available from the built-in seatback displays. But what if airlines went all out and provided flyers with luxurious-sized touchscreens to help distract them from the miserable amount of legroom? Well, it might look like these 21.3-inch screens in a prototype from Thales, a French aerospace company.
Digital Sky, as the in-flight entertainment system is called, was demonstrated as a prototype this week at the Aircraft Interiors Expo in Hamburg, Germany. As seen in the images here, which come from travel website The Points Guy, the large LCD touchscreens almost take up the entire backside of the seats.
The system can be used for watching movies and playing games, just like tinier screens offer now, but the large size introduces new entertainment options like reading digital magazines, or presenting tourist information like maps and places to go at a destination.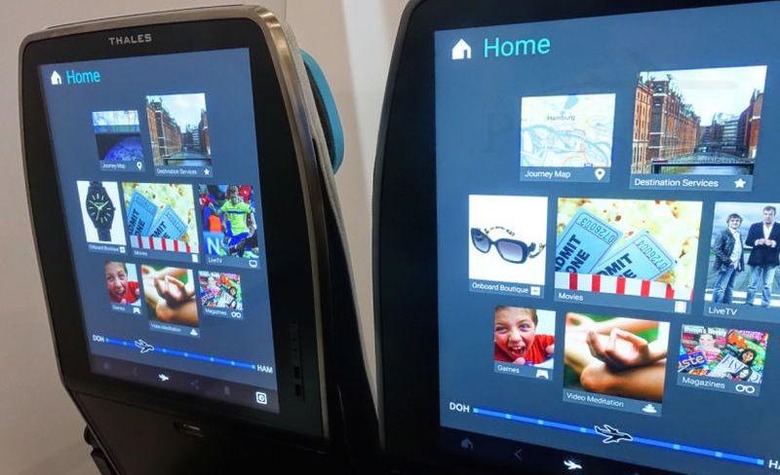 There is one disappointing thing, however, which is that the screens are mounted in portrait orientation, resulting in a lot of empty space on the top and bottom when watching movies or TV shows.
It's also unlikely that you'll see Digital Sky on an upcoming flight anytime soon, as no partners have signed up for the prototype yet. It does show promise though, as the display doesn't take up any more seat room than existing in-flight options, and in its current form, the system is designed to fit into economy class seating.
SOURCE The Points Guy