iLuv Unveils iHD171 HD Radio With iTune Tagging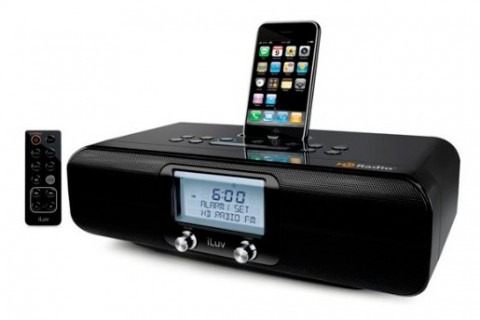 iLuv has announced successor to its HD radio line-up with iHD171HD, adding iTune tagging feature and a brand new look. Don't you just love the look of the old school analog style tuning knob? Much like the previous models, the iHD171 HD Radio is compatible with iPhones and iPods; has 30 programmable presets with ability to charge a connected "i-devices"; tunes legacy AM/FM radio; and can be functioned as a dual alarm clock as well.
The iTunes Tagging allows users to pin track information from HD radio stations onto compatible iPhone and iPod devices, while the Time Sync function allows the radio to auto-synch the time and clock from connected devices. TV output is also provided for iPod device with video output capability.
Mp3 players or any other audio devices can be connected via its auxiliary line input with a standard-size 3.5mm output jack. The sound system features iLuv's jAura Acoustic Speaker Technology with power rating of 4Wrms driven into two-channel. iLuv will debut the new iHD171 HD Radio at CES 2009. It has an MSRP of $199.99.
iLuv iHD171 HD Radio Features
• Compatible with iPhone 3G and 2G

• Time Sync function automatically updates the clock to match the time on your iPhone or iPod*

• One touch iTunes tagging: tags music from HD Radio and saves the song info on your iPhone & iPod

• Provides crystal clear, digital stereo for AM/FM HD Radio and multicast stations

• Receives CD-quality HD radio signals that increase clarity of FM radio stations

• Displays station, song title, band and frequency information

• Receives standard analog AM and FM stereo radio signals

• 30 Programmable presets (10 AM/20 FM)

• jAura Acoustic Speaker Technology for rich sound

• Play and charge your iPhone/iPod

• Output your favorite videos to your TV (iPod with video capability**)

• Digital clock display with dual alarm function

• Wake or Sleep to iPhone/iPod, AM/FM radio or buzzer

• Auxiliary line input for audio devices with 3.5mm jack

• Preset EQ function and mute function

• Audio output: 4Wrms x 2: 8Wrms/16Wpeak

*Excluding iPod nano 1st generation

**Excluding iPod nano 1st and 2nd generation