iLuv gets official with i1166 digital media player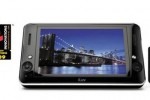 Digital media players are big business and there are new devices hitting the market all the time. ILuv has unveiled its latest digital media player called the i1166 that has an iPod interface and a large screen perfect for viewing video on the go.
The i1166 has a 9-inch screen and is set to hit the market in mid-October at a MSRP of $269.99. The device offers full control over an iPod when docked with an AC adapter. The i1166 is compatible with the iPod touch 2G, nano 5G, nano 4G, original touch, and nano 3G as well as the iPod classic and iPod with video.
The player is DivX certified and has a built-in DVD player. Users can power the device via AC, DC, or an internal li-polymer battery. The player also has a pair of 3.5mm headphone jacks and ships with a remote control.