iLuv App Station rotational alarm clock for iPhone and iPod touch breaks cover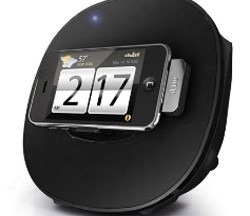 iLuv makes gobs of gear that goes along with the Apple iPod and iPhone. The company has a hoard of alarm clocks and speaker docks designed to let users get the most out of their Apple players. The company is unveiling some new gear at CES including a cool alarm clock called the App Station.
The App Station Dock works in conjunction with a free iLuv app available on the App store once the dock launches. When you dock the iPhone or iPod touch into the App Station it turns into an alarm clock complete with weather forecast and temperature.
The device can also be used as a desktop speaker in addition to an alarm clock. The alarm clock display can be customized to suit your style preference and you can watch movies on the iPhone and hear the audio over the speaker dock. The device is set to debut in February for $129.99.