Iiyama announces a pair of 16:9 Prolite LCDs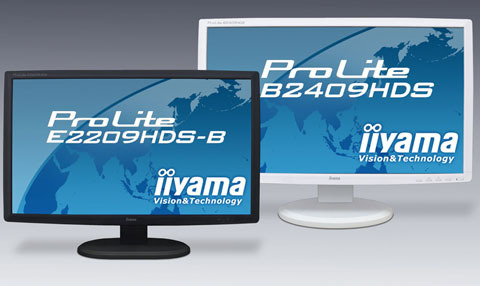 Iiyama Japan just added a pair of 16:9 LCDs monitors to their new line up. Available in both white and black color, the Prolite series Iiyama features a TN panel full HD 1920x1080 resolution with constricted viewing angles of 160/170, on both 22-inch and 24-inch models.
Both Iiyama feature a HDCP compliant DVI-D, a HDMI and a VGA inputs; pack with multimedia packages like a pair of speakers, fast panel response rate of (2ms grey to grey, 5ms back to white) and a good performance 1000:1 contrast and 300cd /m2 brightness screen, Iiyama LCDs also feature eco-friendly power saver modes and have 6 pictures modes made suitable for pc, gaming and movie entertainment.
Only the 24-inch allows pivot and tilt adjustments on its base for optimum viewing. The 22-inch ProLite E2209HDS is expected to launch at the mid of January for 29,800 yens ($328), while the 24-inch Prolite B2409HDS will set you back 34,800 yen ($382) with availability at the end of January.