IIHS test shows family cars are safer than luxury cars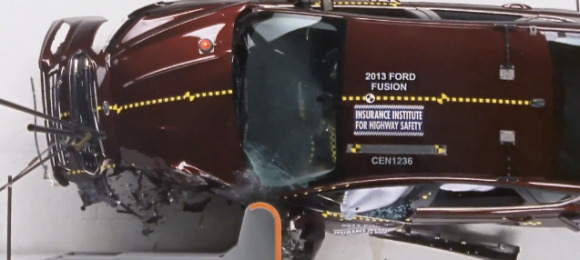 The Insurance Institute for Highway Safety put several popular family and luxury cars through the wringer, and came to the conclusion that family cars are safer than luxury cars. Nearly all of the midsize family cars put through the new crash course rated higher in safety than the majority of luxury cars. While this is good news for those toting their family around in a new family sedan, those who invested in a luxury car are probably feeling a tad cheated now.
A total of 18 midsize family cars were tested in the new crash course, and out of them two came in as "Good," 11 as "Acceptable," three as "Marginal," and two of them as "Poor." As it turns out, however, 13 of the family cars outranked all but the top three luxury cars, which earned ratings of "Good" and "Acceptable." The other eight luxury models fell in the "Marginal" and "Poor" categories in terms of safety.
The test the cars were put through was designed to see how the vehicles held up in a front-end collision, with the front corner striking a car or object that is 5-feet tall at 40mph. To commemorate this and distinguish the cars that did well, IIHS created the "Top Safety Pick+" award. You can check out a video of the crash tests below.
The IIHS's President Adrian Lund offered this statement. "It's remarkable that this group of midsize family cars did so much better than the midsize luxury car group. The difference is stunning. Thirteen of these midsize cars offer better crash protection than all but three of their luxury counterparts, and at a price that's easier on the wallet."
[via IIHS]