ii-View debuts new A2 netbook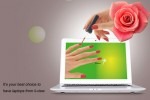 Netbooks are all pretty much the same with little to set each of them apart in the market. A company called ii-View has tossed its hat into the netbook ring today with the announcement of its
. The machine promises to set itself apart via price and not specifications, which is to say it has the same specs as the hoards of other netbooks available.
The machine has an Intel Atom N270 CPU, 2GB of RAM, 320GB HDD, and a 12.1-inch LCD. The native resolution for the LCD is 1280 x 800, the device has 802.11a/b/g/n Wi-Fi, and a web-cam built-in. The larger screen size allows the machine to have full size keyboard and a touchpad with gesture support.
Power for the device comes from a 6-cell battery. Oddly, the netbook sells for $399, which is right in the average price of the netbook realm. That price does little to set the machine apart and you can get similar specs for the same money or even less. At less than that amount, you will be looking at 10.1-inch screens though.