If you're on some kind of budget, and can't afford ridiculously expensive headphones, but like the look and feel of over-the-hear cans, then iFrogz has just unveiled a couple of options for your viewing pleasure. The company has just announced the immediate availability of their brand new Mogul and Ronin over-the-ear headphones. Both 'phones come in under the $100 price tag, and both models feature color variations that will definitely attract the eye.
The Mogul headphones come in three different color variations. The headphones also feature 50mm drivers, while the company says that the headphones will also offer up deep bass, as well as undistorted, smooth highs. And, as we've come to expect from over-the-hear headphones, the headband and cushions for the cups are made to be comfortable for long periods of time of usage. The Mogul can also fold, to make it easier for you to store them when they're not in use. The Mogul headphones will run you a cool $69.99.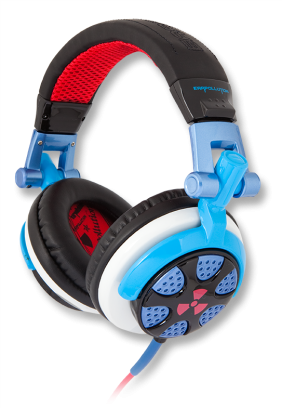 As for the Ronin headphones, it too comes in three different color variations, but the price tag is a bit cheaper. Interestingly enough, while the price tag is cheaper, the Ronin headphones offer up the same features as the Mogul. Apparently the price drop comes in the fact that the Ronin don't look as "high-end" as the Mogul headphones. The Ronin will cost you $49.99.
[via GearLog]