IDC: tablets continue to fall, detachables continue to rise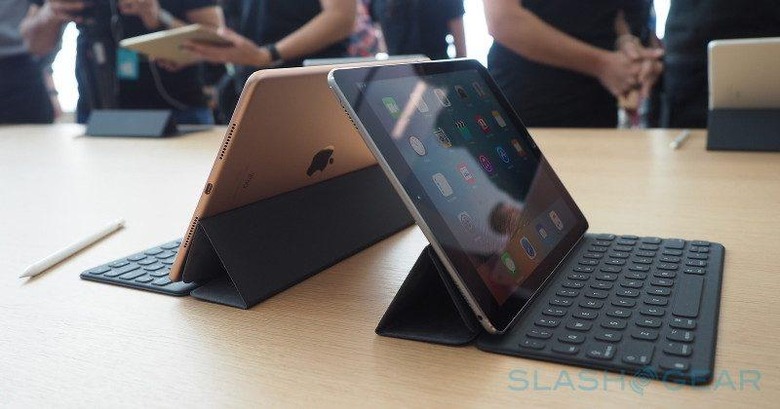 It's a good news, bad news thing for tablet makers, depending on which kind of tablets they're banking on. As long predicted by market analyst IDC, tablet shipment shares continue to tank in year on year numbers. That said, that is mostly for the traditional slate tablets. Behind the scenes, however, a new breed of detachable, 2-in-1 hybrids are actually experiencing triple digit growth year on year, which could make them the salvation and new trend of the tablet market.
Microsoft is largely credited for giving birth to this new segment of the tablet market with its Surface Pro line. However, Apple may have just one upped it with its iPad Pro, both the 12.9 and the newer 9.7 inch variants. At least in the short term. Long term, Apple will have to address concerns about the high price point and, more importantly, iOS' ability to deliver a near-PC experience. The same price consideration is also affecting reception of the newest players in this segment, Huawei and Samsung, who have just launched their Mate Book and TabPro S, respectively.
With detachables seen as the high end tablet segment, traditional "slate" type tablets have become equated with low to mid range tiers. For vendors like Amazon, whose budget tablets are meant more to attract subscribers to its services, that is probably good news. But for OEMs who actually rely on the profits from tablet sales, it doesn't bode well.
Speaking of Amazon, IDC's numbers show an interesting but skewed tally. Out of the top 5 tablet vendors, it is one of two that saw an increase in shipments, up by 5,421.7%. That is not a clerical error. IDC claims that this unbelievably large number was due to them not counting the newly launched 6-inch Fire tablet in the first quarter of 2015. Apple still retains the lead in the tablet segment with Samsung not far behind. IDC notes that the Korean OEM represents perhaps the last breed of premium slate-type tablets. Lenovo can't seem to catch a break, losing much in this segment and being edged out of the Top 5 PC vendors this quarter as well. Huawei, on the other hand, enters the top 5 this year.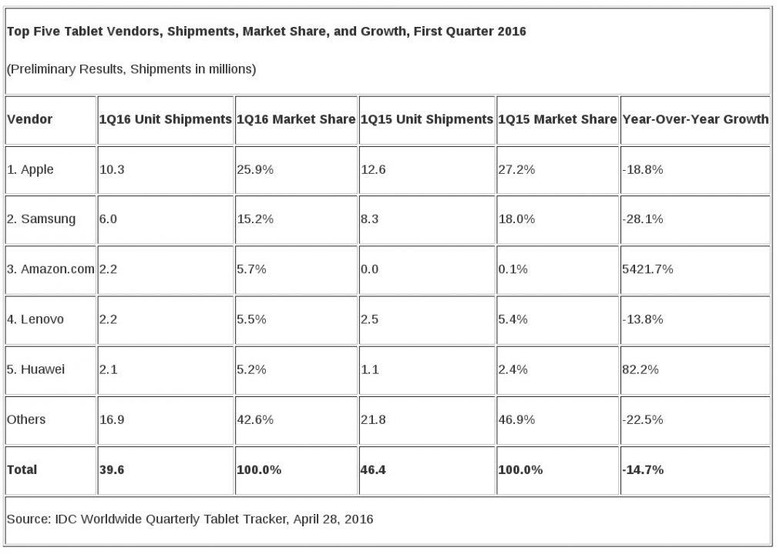 IDC predicts that detachables will see an even bigger rise in the months to come as PC sales, that is desktops and laptops, continue to fall. Buyers will opt to replace their aging PCs with these multi-form portables. While good for tablet makers, it presents a new problem for the already beleaguered PC makers, as OEMs once focused solely on mobile devices start churning out convertibles in a grab for the new market.
SOURCE: IDC