IDAPT i1 Eco-Friendly Universal Charger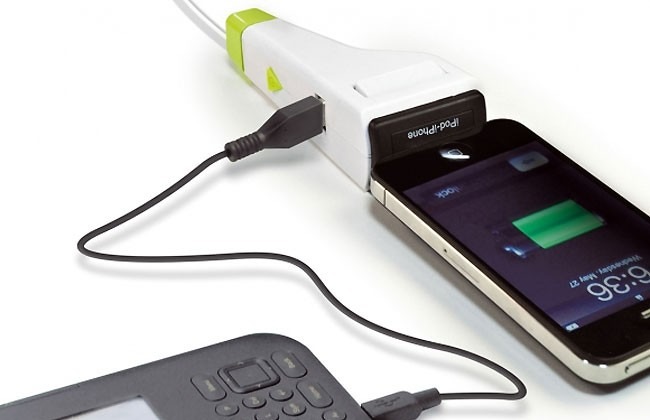 Looking for a charger that will be compatible with all your gadgets, last a long time, and be eco-friendly all at the same time? That's certainly what IDAPT's new universal charger hopes to offer. Fresh out the door today, is the IDAPT i1 Eco with its unique interchangeable tip design is the one charger that can replace all your separate chargers.
The IDAPT i1 Eco features both a USB charging port and a unique quick-release interchangeable tip that lets you swap out connectors to suit any gadget you may have. This allows you to charge almost any combination of portable devices including the iPhone, iPad, BlackBerry, Nintendo DS, Android Phones, PSP, GPS systems, digital cameras, tablets, and more. With IDAPT continually develops new tips as new devices come out, making the IDAPT i1 Eco a future-proof charger.
As for the eco-friendly aspect, the IDAPT i1 Eco features an auto-off function that powers off the charger when not in use or when charging is finished. The device is also made of recycled materials, meets Energy Star ratings, and does not use chemical painting in its production process. The charger is available now for $24.99.
Press Release:
Eco-Friendly Universal Charger IDAPT i1 Eco Now Available

Charge 4,000 different electronic devices while eliminating carbon footprint

Barcelona, Spain – May 25, 2011 – IDAPT, a leading mobile technology leader, is thrilled to announce the availability of the new eco-friendly IDAPT i1 Eco. The compact IDAPT i1 Eco is made of recycled materials, meets Energy Star standards, and minimizes the user's carbon footprint while charging most electronic devices.

The IDAPT i1 Eco charger helps conserve energy through its Auto-off system which turns off the charger while not in use and a re-start button to wake it when necessary. The dual charger can refuel mobile devices while at home or the go via wall outlet or included car adapter with minimal impact on the environment. Additionally, no chemical painting is used during the manufacturing process in order to ease the process of future recycling.

The IDAPT i1 Eco has two points of charge, a USB port and a tip port. The future-proof interchangeable tips system makes the IDAPT i1 Eco compatible with over 4,000 different devices including iPad, iPhone and iPod as well as BlackBerry, Nintendo 3DS, digital cameras, GPS systems and Bluetooth products.

IDAPT i1 Eco is available now for $24.99 at IDAPTweb.com. Packaging includes 3 of the most popular tips – microUSB, miniUSB and iPod/iPhone. Other tips are available at IDAPTweb.com.

For more information on IDAPT, follow us on Facebook and Twitter.

About IDAPT:

IDAPT is a company specialized in the design of solutions that simplify everyday lives of mobile technology users. Its innovative range of universal chargers, based on a patented system of interchangeable tips, has achieved worldwide recognition among users and industry experts. Innovation and commitment to develop new products that suit user's needs are the company's main commitments since its foundation in 2006. With headquarters in Barcelona, IDAPT has distribution agreements in more than 30 countries.IDAPTweb.com