iConvert Turns Your iPad Into A Portable Scanner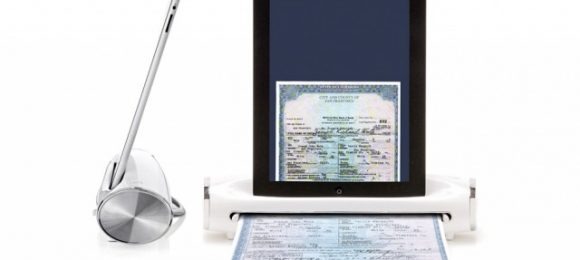 Here's a new gadget that iPad-toting road warriors will appreciate. It's a portable scanner dock called the iConvert and it's ready to tackle your receipts and other business documents without the need to connect to a PC or Mac. Simply dock your iPad on the iConvert and it scans documents directly onto your iPad via an iOS app.
The iConvert features a small footprint, but can scan documents ranging from 2- to 8.5-inches wide. Documents are scanned with 300 DPI resolution and saved to your iPad's picture folder. The controls for the scanner show up on the iPad screen via the iConvert iOS app that you can download from the iTunes App Store.
The scanner dock is compatible with both the original iPad and the iPad 2. It's priced at $150 and will go on sale in February, giving you enough time to scan and sort all your receipts in time for tax season. The iConvert will be available through Brookstone.
[via Cult of Mac]