ICON HD and The NERD Review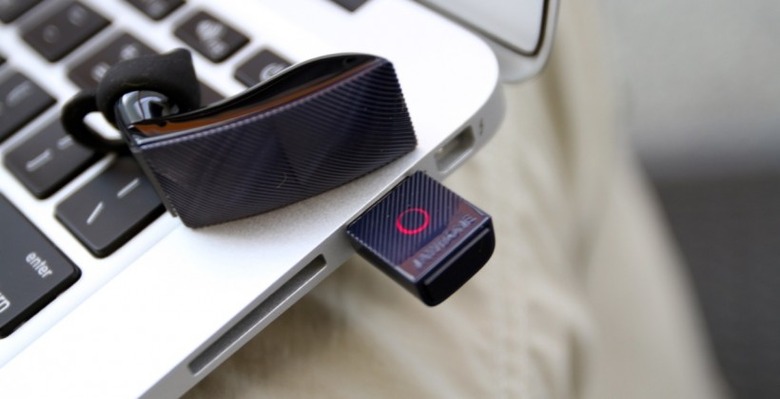 Jawbone's ICON was our consumer Bluetooth headset pick back in early 2010, but more than 18 months later it's perhaps overdue a refresh. Along, then, comes the replacement, the Jawbone ICON HD and its new Bluetooth dongle accessory, The NERD. It might have a geeky name, but the promise is complete simplicity. Check out the full SlashGear review after the cut.
Hardware
Outwardly, there's little to mark the difference between the 2010 ICON and the new ICON HD. It's the same 44.1 x 18.25 x 25 mm and 8.2g chassis with textured fascia, a springy circular ear grip and a somewhat stubby aesthetic that stands a little further out from the head than we'd prefer, a look that's over-emphasized by the short length.
Inside there's Bluetooth 2.1+EDR with multipoint support for pairing with two devices simultaneously along with A2DP to handle stereo sound (albeit in mono). Up to eight device pairings can be stored, and the quoted range is 10m; in reality we managed considerably more before static spoiled play.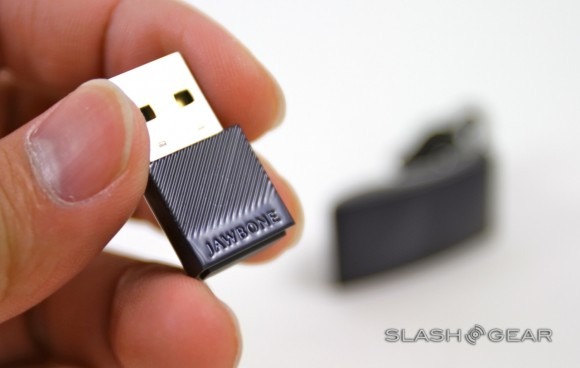 What has changed is the HD audio support, with a 25-percent larger "wideband" speaker supporting 16kHz. With compatible services – such as Skype, YouTube or Pandora – it delivers crisper, fuller sound.
The NERD, meanwhile, is Jawbone's oddly named USB Bluetooth dongle, a 2.1+EDR peripheral. Offering the same 10m range and eight device storage – though no multipoint – and is a reasonably compact 28mm long. Plug'n'play with your PC or Mac, it automatically picks between mono sound for VoIP and microphone applications, and 44.4kHz for music and PC streaming audio.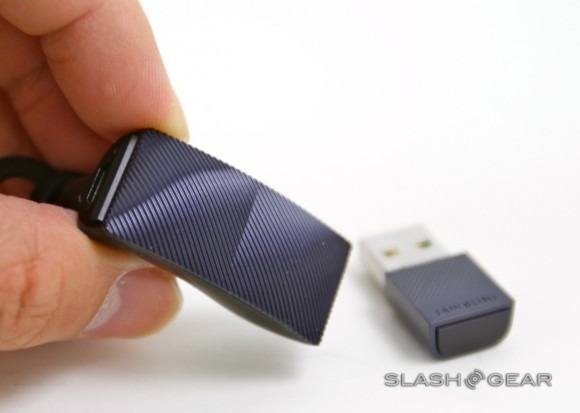 Performance and Battery
Setup is certainly straightforward: the ICON HD automatically pairs with The NERD, so getting it running on your PC or Mac is driver-free. It's similarly simple with a phone, and if you're using an iPhone or iPod touch you get a slick little icon in the status bar complete with battery meter.
Music sounds solid with HD audio sources, though obviously lacks the breadth of a proper stereo headset. Receive a call and it automatically switches over and into mono mode, then resumes when the call is over. NoiseAssassin v2.5 is onboard, Jawbone's audio enhancement system, and it does a great job of cutting through background noise and pulling out speech in conversations without then over-processing music.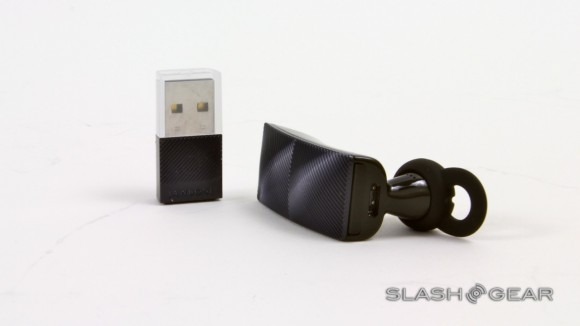 The MyTALK app is also supported, with a range of voice prompts in different languages along with control from your smartphone over which speed-dials are preset. There are also various DialApps, software loaded direct to the ICON HD and which can record voice memos, send SMS and emails by voice, or post to Twitter. Whether most users will actually take advantage of the extra functionality is uncertain, but Aliph has kept things updated. The existing ICON has seen eight software updates and fifteen new apps over the past year.
Battery life is quoted at 4.5hrs, less than some larger rivals but still enough for most people's daily cellphone and VoIP call needs. A full recharge takes 90 minutes – you can either use the bundled AC adapter or the posable USB cable – but an 80-percent recharge takes 40 minutes.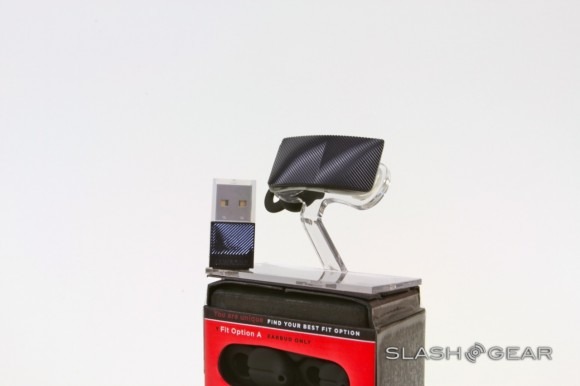 Wrap-Up
The only change we're not so keen on is the pricing. The original Jawbone ICON came in at $99, whereas the ICON HD + The NERD pairing is $139. Right now, there don't appear to be plans to sell the headset separately; although the Bluetooth dongle does make setup straightforward, we can see many people relying on the integrated Bluetooth in their laptop, or only intending to use the ICON HD with their phone.
We can't fault the ICON HD's audio quality, and as long as you aren't looking for true stereo A2DP support it does a solid job with both voice calls and music. If you don't have Bluetooth support in your computer, or find yourself not using a headset with it simply because of setup headaches, then the ICON HD + The NERD bundle shouldn't disappoint. Those looking solely for a good Bluetooth headset, however, may find themselves spending extra on hardware they don't actually need.