iCloud Lets You Re-Download Apps No Longer Available On The App Store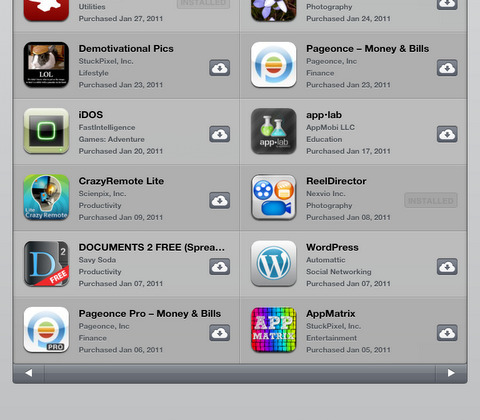 It's been discovered by CDFXapps.com that the new iTunes with iCloud, at least in the beta version, lets users re-download apps that have been removed from the iTunes App Store. Apple has made it clear during their WWDC 2011 keynote that the new iCloud enabled App Store will let users re-download apps, but is it an oversight that previously purchased apps that have been removed or banned are also still available?
Apple has unveiled that the new iCloud will bring a new "Purchased" tab next to the "Updates" tab in the App Store. The Purchased tab will show all apps that you've purchased along with a cloud button next to each one that lets you download the app to any of your iOS devices that doesn't already have it. But, according to CDFXapps, the iDOS app, which has been banned by Apple because of wormholes that allowed any .exe file to run on it, can be re-downloaded from the Purchased section.
Another example is the game "Tris," which was a Tetris clone that was removed from the App Store years ago. If you had previously purchased it, it also has become available to re-download. It's not clear if this will continue being the case for all apps with the iCloud, but it does show that Apple is very thorough in tracking all the apps you've ever downloaded and backing up all the apps available through its App Store.
[via AppleInsider]