Ice Cream Sandwich running on 0.6 percent of Android devices, Gingerbread on 55 percent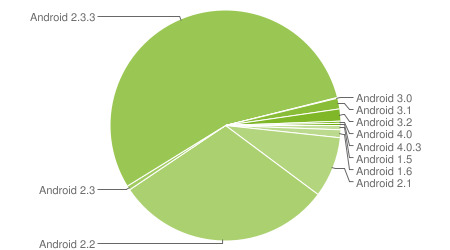 Android developers have released the current statistics for the number of active devices running a given version. Certain versions, like Gingerbread, have seen expected growth since the last report. Ice Cream Sandwich, for the length of time it has been available, is running on an impressive number of devices.
Gingerbread has seen a 10% growth since last month, currently running on 55.5% of active devices. Gingerbread trumps the other versions, but Honeycomb has shown a steady increase, accounting for just over 3%. The latest Android versions, 4.0 thru 4.0.3, are on .6% of Android devices. Ice Cream Sandwich is expected to continue increasing at a steady rate, however.
Ice Cream Sandwich has only been available on one phone, Galaxy Nexus, for six weeks in Europe and three in the US. Not to mention the Huawei Honor has been the only device to receive an official Ice Cream Sandwich update. Although ICS has been available for only a few weeks, it is already installed on .6% of Android devices, a number that will surely increase. The benefit for ICS that will allow growth is its availability on both smartphones and tablets, and Google released the source code almost immediately.
[via Android Community]