Ice Cream Sandwich Now On 2.9% Of All Android Devices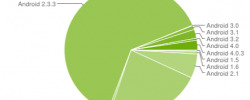 Last time we heard about Ice Cream Sandwich adoption on Android devices, less than 1% had the OS installed. Granted, only the Galaxy Nexus was ready to go with ICS, along with a speedy update to the ASUS Transformer Prime, but OEMs in general have been slow to offer updates ever since the code dropped in November. ICS products and updates are slowly but surely starting to appear, and the latest data shows that ICS adoption has jumped.
New data from Google's Platform Versions shows that Ice Cream Sandwich is now installed on 2.9% of all Android devices. Yes, it's an improvement, but still nowhere near where it needs to be when you take into account the other statistic. Gingerbread rules the roost, installed on 63.7% of Android devices. 23.1% are still stuck on Android 2.2, Froyo.
While it's not a direct (or fair) comparison, iOS 5 was released back in October, and within a month was installed on 40% of compatible iOS devices. Android OEMs like Sony and Motorola have promised ICS updates to their various handsets, although timelines have been vague and sometimes slipped.
Working with the carriers to ensure that updates are compatible with branded handsets is also another concern. Carriers test all updates which adds further delays to the timeframe for Android updates. SIM free devices generally fare better, with the international Galaxy S II recently seeing an update to ICS.
[via Electronista]