iBUYPOWER trots out Intel gaming system Power 906 - under $750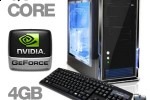 In a collaborate effort, iBUYPOWER teams up with Tiger Direct to launch the new Gamer Power 906 — Intel Core 2 Quad Q8300 Processor, 4GB DDR-2 RAM, Nvidia 9600GT1GB GPU, 500GB SATA storage and 600-watt PSU — a performance system with enough juice to crank graphic intensive games without breaking the bank.
Components inside the Power 906 is housed in a roomy NZXT Alpha Chassis with silent cooling solution, professional cable management system, clear side panel and is preinstalled neon lights; enough blings and well organized to showcase the system's interior.
The iBUYPOWER Gamer Power is up for ordering now for $710 at Compusa or Tigerdirect.