iBUYPOWER Paladin F Series Desktop Review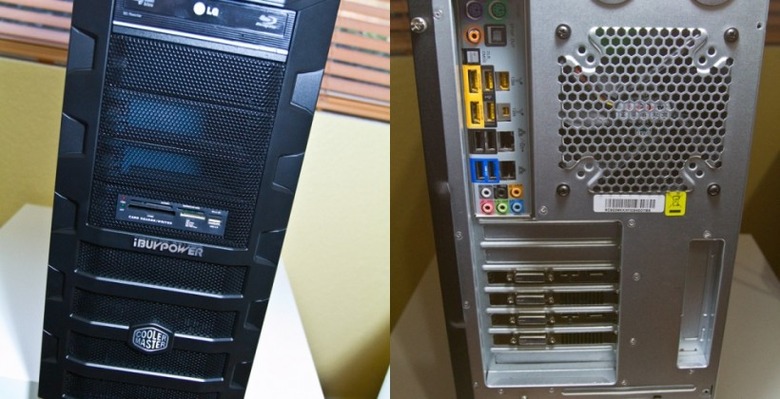 With the arrival of Intel's Core i7-980X hexacore processor, we're told we can expect even greater extremes of performance; several gaming and workstation manufacturers have already announced new models using the desktop CPU. Custom desktop builder iBuyPower sent over their latest machine, the Paladin F Series Desktop, pairing the i7-980X with dual ATI graphics and liquid-cooling. Could this be the fastest desktop we've ever tested? Read on for the full SlashGear review.
Since iBuyPower allow customization on pretty much every aspect of their machines, you can take the spec list with a pinch of salt; it's configurable depending on your intentions and budget. Our review unit had the 3.33GHz Intel Core i7-980X processor, 6GB of DDR3-1600 memory, a Gigabyte GA-X58A-UD5 motherboard using Intel's X58 chipset and, among other things, two USB 3.0 ports, and two ATI Radeon HD 5870 graphics cards set up in ATI CrossFire configuration. Asetek 550LC liquid-cooling keeps everything cool and quiet, and there are two drives: a 40GB Intel X25-V SSD for the OS – in this case Windows 7 Home Premium – and a 1.5TB Seagate SATA 7,200rpm hard-drive for data. A 1,000W PSU, both Blu-ray and DVD drives, and a distinctive Coolermaster HAF 922 case round things out, and iBP Labs Level 2 Powerdrive Overclocking service means the Paladin F is already kicking above its weight when it leaves the factory.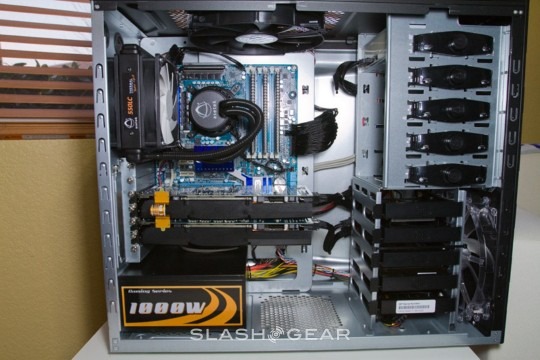 Intel's Core i7-980X Extreme processor is the company's latest flagship, built on 32nm processors like previous Core i7 chips but packing six cores each running at 3.33GHz. The processor also has more L3 cache than earlier versions – 12MB versus 8MB – and boosted QuickPath Interconnect speed, at up to 6.4 Gt/s; Intel have made better use of that cache, too, thanks to Advanced Smart Cache which can dynamically allocate the memory depending on each core's workload. Finally you get Hyper Threading and Turbo Boost.
[sgbenchmark id=86 show=system]
Meanwhile AMD's ATI Radeon HD 5870 graphics card has already carved a niche for itself among gamers, and with good reason. Built on 40nm processes, each card – the Paladin F has two, remember – has an 850MHz core clock speed, 1,600 stream processors and 153.6GBps memory bandwidth. Each card has two DVI ports, an HDMI and a DisplayPort connector, and is capable of 2560 x 1600 maximum resolution.
As you might expect, that sort of specification adds up to superlative performance, and our benchmarking certainly didn't disappoint. We started off with Windows 7's own "Experience Index", which assesses key components on a scale of 1.0 to 7.9. The iBuyPower PC scored 7.3 overall, only held back by its primary hard-drive data transfer rate; it scored 7.8 each for processor, memory, graphics and gaming graphics.
We then moved on to Geekbench, a synthetic test of processor and memory performance, and the iBuyPower system came back with a whopping 15,710 points. Contrast that with Apple's Mac Pro – a system we're still awaiting a Core i7-980X update for – the dual-CPU configuration of which we benchmarked seven months ago. Running two 2.66GHz quadcore Intel Xeon processors, the Apple desktop scored 9502 in comparison.
[sgbenchmark id=86 show=score]
Finally we loaded up PCMark, often used to give more of an insight into how a system will perform in various tasks such as gaming, productivity and entertainment. The iBuyPower scored 19,174 PCMarks overall, with a huge 24,629 in the Gaming Suite category.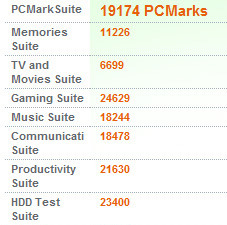 If it wasn't already clear, Intel's CPU – with the help of a well configured system – has no shortage of power. Users demanding the very highest frame-rates in today's games, as well as the overhead to handle whatever titles are on the horizon, should frankly look no further. Throw into the mixture the ability to overclock the Core i7-980X to over 4GHz – we've seen at least one system builder offering a factory overclock of up to 4.4GHz – and the ambitious PC owner unafraid to tinker with BIOS settings could readily squeeze out even more performance.
The downside is, of course, price. A system using the same core components as our review unit – the CPU, memory, motherboard, dual graphics cards, SSD/HDD combo and PSU – comes in at over $3,000; with the bells & whistles iBuyPower added to our system you're looking at more like $3,299. Is it worth the price? For everyday users, everyday gamers, everyday video editors... no, perhaps not; for a considerable reduction in price you can have a merely moderate drop in performance. Meanwhile the hexacore processor is to be just the first of a range of chips, and costs will inevitably fall over the coming months.
Still, the people considering the iBuyPower system are doing more than balancing sticker price with functionality, and if you have to have the fastest performing PC right now then you need to have Intel's Core i7-980X inside. What most users will be asking the iBuyPower system to do won't probably touch the edges of its capabilities, but that doesn't undermine the fact that this is an incredible PC.