iBUYPOWER M865TU Gaming Notebook announced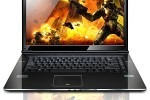 iBUYPOWER announced a brand new gaming notebook today called the M865TU and it's 15-inches of video gaming glory. It's available in a ton of different processor options and has the look and feel of a stylish piece of equipment.
This new notebook has a starting price of $1,499 and is available in a 2.93GHz Intel Core 2 Duo T9800 version as well as many others. It also is capable of up to 4GB DDR3 memory, 1,680 x 1,050 resolution on the 15.6-inch LCD display and a NVIDIA GTX 260 1GB graphics card.
This notebook is custom made for gamers that want top of the line graphics and video capability. An Intel X-25-M SSD option is also available. There's no doubt the iBUYPOWER M865TU Gaming Notebook offers desktop replacement power in a super portable package. This notebook is available now.