iBUYPOWER launches Paladin F-Series gaming PCs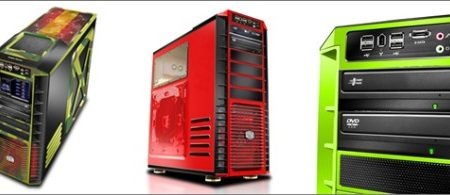 If you're interested in gaming, then you may also be interested in the latest gaming PCs from iBUYPOWER. This latest line is the Paladin F-Series and they possess Intel Core i7 processors, offering up high performance tucked into some really unique-looking, customizable cases.
The new series includes three different models. The Paladin F860-a and the F860-n have the Intel Core-i7 940 processor while the Paladin F970 runs on the Intel Core-i7 965 Extreme Edition processor. This latter model also has an ATI HD 4870X2 2GB DDRS graphics card, 12GB of DDR3 1333 memory and a dual radiator liquid cooler.
All three models are housed in Cooler Master HAF cases, which can be customized however you like. All three desktop gaming PCs come with Microsoft Windows Vista, a mouse and a Logitech keyboard. a 3-year limited warranty is also included. The Paladin F-Series computers range in price from $2,199 to $3,799. Check out the full specs below: