IBUYPOWER intros two Dragon-based AMD gaming systems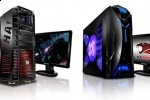 The PC industry may not hear much of the new Phenom with Intel getting all the headlines, the sequel is now manufacturing with 45nm process — a new platform codename "Dragon" — a synthesis of computing power and strength with ultimate visual experiences when paring with AMD 790GX chipset and ATI Radeon HD 4870. To cover all bases from their existing Intel-based desktops to the best of AMD have to offer, iBUYPOWER have announced two new Dragon-powered gaming systems – Gamer HAF 91B and Gamer Fire 585 with AMD Phenom II Quad core processors.
The Gamer Fire features an AMD Phenom II X4 940 Processor and is a fully loaded flagship with 4GB DDR2-800 memory, multifunctional Blu-ray player, 750GB SATA II storage, ATI Radeon HD 4870x2 with 2GB GPU memory, and draw it power from a 800 watts PSU. That system priced out at $1,439. For a much affordable setup, the Gamer HAF 91B packs Phenom II X4 920 Processor and ATI Radeon HD 4850 512MB Video in a highly accessible Gamer HAF enclosure for $440 less. That's without the Blu-ray spinner and a smaller output power supply at 550 watts.
Both systems are available now at company's online store.
Gamer HAF 91B
• AMD Phenom™ II X4 920 Processor
• AMD 790GX Crossfire™ Chipset Motherboard
• GENUINE Windows Vista™ Home Premium
• Coolermaster HAF 932 Gaming Case
• 4GB DDR2-800 Memory
• 500GB SATA II 7200RPM Hard Drive
• ATI Radeon™ HD 4850 512MB Video
• LG 20x Double Layer DVD±RW Drive
• LG 16x DVD-ROM Drive
• 550W Power Supply
Gamer Fire 585
• AMD Phenom™ II X4 940 Processor
• AMD 790GX Crossfire™ Chipset Motherboard
• GENUINE Windows Vista™ Home Premium
• Certified CPU Liquid Cooling System – Overclocking Proof
• NZXT Guardian 921 Gaming Case
• 4GB DDR2-800 Memory
• 750GB SATA II 7200RPM Hard Drive
• ATI Radeon™ HD 4870X2 2GB Video
• LG GGC-H20L BLU-RAY Reader Drive
• LG 16x DVD-ROM Drive
• 800W Power Supply