iBUYPOWER Chimera Gaming System announced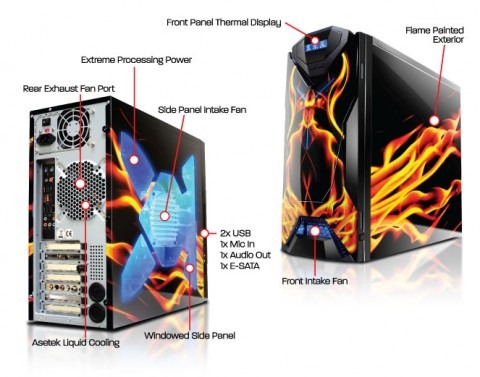 iBUYPOWER announced their latest gaming system today. It's called the Chimera Gaming System and it's actually built in one of the company's first signature cases that features advanced functions. With a super high-gloss look and customization options, your friends will definitely be jealous should you add one to your collection.
This new system goes beyond awesome fire graphics on the outside, however. The side paneling is clear, so you can add whatever sort of lighting you want and with an Asetek liquid cooling solution plus three 120mm fans, there's no way this thing is overheating.
The Chimera is available in an Intel Core i7 and an AMD AM3 + Phenom II version and can use either ATI or NVIDIA. And you have a wider array of options here. You can add on a Creative Labs SoundBlaster X-Fi Sound Card or a Killer NIC gaming network card, if you'd like. Plus, you get your choice of Tom Clancy's H.A.W.X. or Halo 2 when you buy it. You can get the Chimera Gaming System now for a starting price of $999.