iBooks Author Hands-on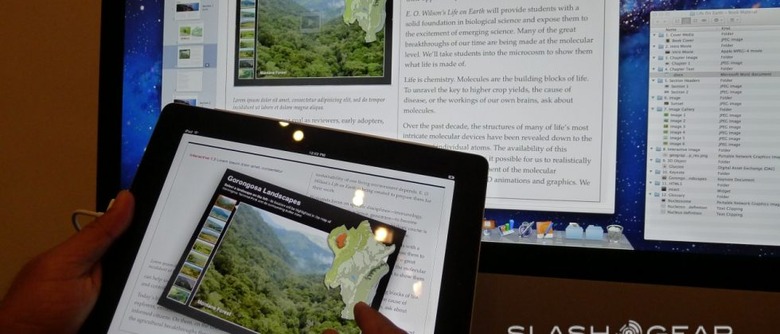 It's taken a special kind of ebook to make headlines over the past year or so: anyone can throw together a basic document, but a rarified breed of immersive, interactive app/ebook hybrids has also developed. Often seen targeting children or delivering iPad versions of print magazines, they've invariably taken big money and plenty of time. Now, with iBooks Author, it's simple enough for the layman. Check out our hands-on impressions after the cut.
You get a lot for a free app, especially one in its first iteration. Early leaks described the rumored tool as "GarageBand for eBooks" but in fact we found it even easy to dig into: load the app, pick one of the basic templates, and then begin dropping in content. Pages are easily managed in a column down the side, similar to Keynote.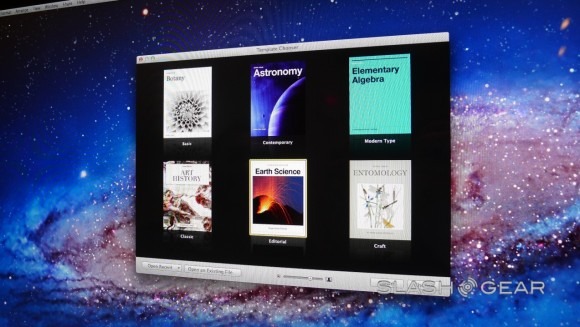 Text can be typed in directly, with the usual choice of fonts and styles, or imported wholesale by dropping a Word document into the editor. Similarly videos and images can be dragged in, and Keynote presentations automatically covert into interactive clipboards. What stands out the most is the speed at which content renders and is ready; Apple was demonstrating iBooks Author on some high-spec iMacs, which will give it an edge of course, but there's little in the way of sitting round waiting for video to import or graphics to be crunched.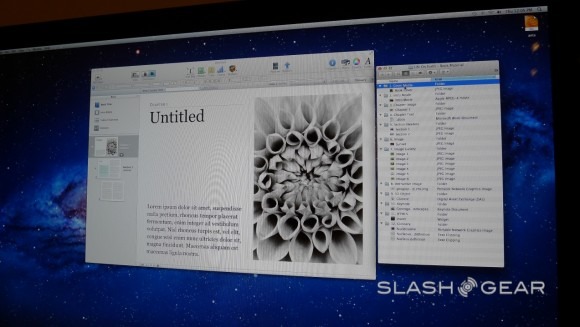 Those readers using VoiceOver on their iPad are catered for as well, with optional accessibility descriptions, and pagination, captions and footnotes are handled automatically. Apple's event today was focused on textbooks, but any type of ebook can be created, with the complexity entirely up to the user: you can go for basic text and a few photos, or the whole way with multimedia, animations and more.
The downside will be exactly how you can export ebooks created with the tool: PDF and TXT are options, along with Apple's own IBOOKS format, but interactive books exported as .ibooks – which they'll need to be for all the multimedia support – will only open on the iPad. Even iPhone users are currently left out in the cold.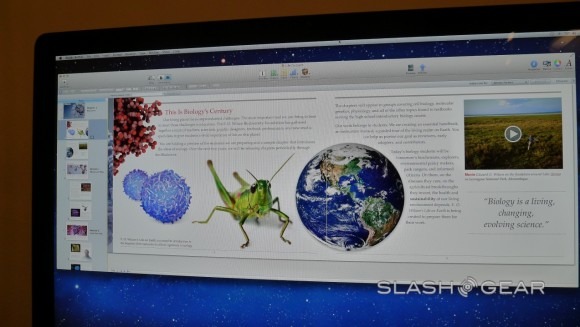 Our guess is that Apple is looking to change that – after all, iTunes U supports cross-device sync using iCloud, and textbooks are going to be a big part of that – but for the moment the iPad is where it's at. We can't particularly fault them on an eye-candy level, as the output iBooks Author is capable of looks its best on the iPad's bigger screen.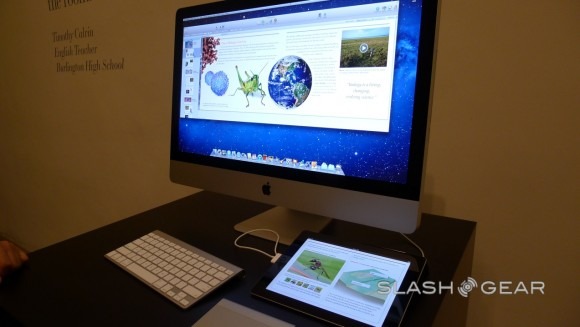 iBooks Author is obviously a far deeper app than our brief hands-on post-keynote gave us time to get to grips with, but the good news is that not only is it available to download now, but it's free. You'll need OS X 10.7.2 Lion and, obviously, a Mac in order to use iBooks Author.