IBM, Honda, and PG&E team for smarter electric vehicle charging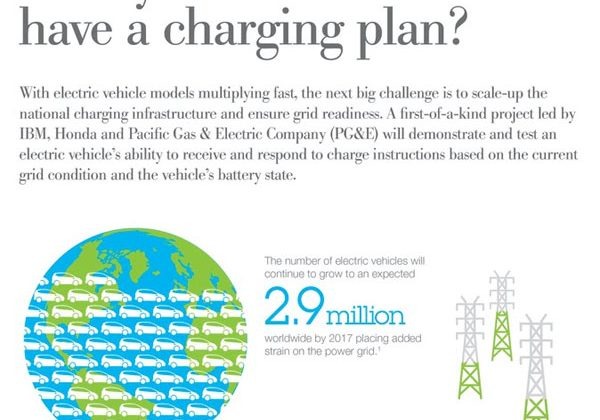 There are a lot of technology companies, carmakers, and utility companies that are working together around the world to make the charging of electric vehicles more convenient for drivers. At the same time, these companies are also working to help reduce the load on the electric grid, which in some areas is near its limits. American Honda Motor Company, Pacific Gas and Electric Company, and IBM have announced that they've teamed up on a pilot project to allow communication between EVs and the power grid.
The goal of the project is to demonstrate an electric vehicle with the ability to receive and respond to charge instructions based on the grid conditions the how much power is in the car battery pack. This technology will allow the electric company to manage vehicle charging effectively during peak hours and help generate new incentive programs to help encourage the adoption of electric vehicles. The demonstration will use a Honda Fit EV and will use IBM cloud-based software.
When the test Honda EV is plugged in, a charge request is initiated by the car's Telematics system used for navigation. That request is sent to the IBM Electric Vehicle Enablement Platform where it grabs data about the battery charge state and the utility grid. The battery charge state and the grid conditions are then considered to determine and optimize the battery charging schedule, and the vehicle is informed in seconds. The idea is that if the utility grid is overloaded, and the vehicle battery is nearly full; the car would delay charging its batteries.
"This pilot project with IBM and Honda will help us demonstrate that third-party providers have the systems and capabilities to help meet some of the challenges that electric vehicles could place on the power grid as their adoption increases in the coming years," said Saul Zambrano, senior director for consumer products for PG&E. "With updated charging patterns for EVs, we have the ability if needed, to shift demand to non-peak times to ensure the reliability of the grid so that we can continue to deliver safe, reliable and affordable energy to our customers."
[via IBM]