i.Tech unveils SolarVoice 908 solar power Bluetooth headset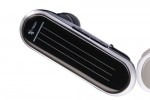 One of the big problems for me with Bluetooth headsets isn't comfort or call quality, it's remembering to bring the headset inside from my car and charge it up. I end up getting in the car and the headset is out of power. i.Tech has announced a new Bluetooth headset that might make the days of forgetting to charge your headset a thing of the past called the SolarVoice 908.
As you can gather from the name of the device, the headset is able to charge from solar power. The headset also packs in other important features like background noise reduction and digital signal processing software. The headset also supports A2DP connectivity for streaming audio from compatible devices to the headset for music and movies.
The device also ships with a docking cradle to charge the internal battery from the AC outlet when needed. Up to two mobile devices can be paired to the headset at once and a button for answering calls and rejecting them is built-in. Wireless range is 33 feet and the device measures 2.15" L x .68" W x .49" H and weighs .42 ounces. The SolarVoice 908 is available now on Amazon for $74.99.