I Hate You, Dell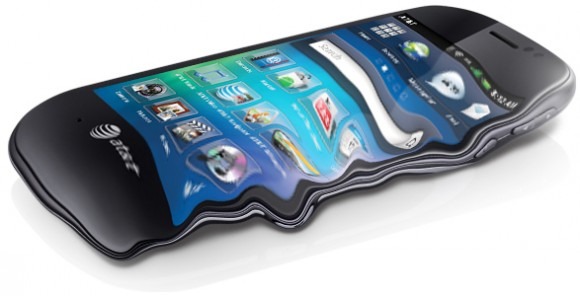 This morning I got to know Dell very well. I'm not sure how many people work for the company, especially in sales and customer service, but I talked to 15 of their, ahem, lovely employees. I made 10 phone calls. I started the return process at 9:30 AM, and finally finished my journey two hours later. All I wanted to do was return a crappy cell phone.
Last week, I bought the Dell Aero. I would review it but it wasn't a very important phone to review. Because of its ancient Android 1.5 operating system and questionable heritage from the middling Dell Mini 3i line in China, the phone was not generating much interest. But, having seen the phone in person, I was curious. I liked the design. It's very small and light. I also have an AT&T SIM card and account without a phone. I returned my iPhone 4 and I've been waiting to buy the white iPhone. In the meantime, I thought I would give the Aero a shot.
When I originally called and placed my order, I checked Dell's return policy. Dell's restocking fee policy is vague, and now I'm sure that's on purpose. In their terms and conditions, they say "Additional fees, including up to a 15% restocking fee, may apply." That "may apply" set off alarm bells, so when I called to place my order, I decided to ask about it.
The first time I called, the Dell rep had no idea what the Dell Aero was. He asked if I meant the Dell Streak, a 5-inch tablet Dell is selling to use with AT&T's data network. No, I meant the Aero. He talked to his manager. The manager knew the phone had been announced months ago, but didn't know it was on sale. I had to direct them to the Web site. I should have known this was not a good sign.
I tweeted about my experience. Within a couple hours, a Dell twitter account got in touch with a phone number for Dell mobility sales. Finally, someone who knew what they were talking about. When I talked to Preston, my Dell Sales Professional, I asked about the fee and he told me that if I returned the phone within 21 days, I wouldn't have to pay anything. I should have recorded that conversation.
The phone is awful. There is no way I would keep it. I called Dell to initiate the return. I won't bore you with all the details of my excruciating morning, but here's a rough outline.
First call to my original sales rep. I entered his extension, and was taken to a mailbox system that asked for a mailbox number. I entered the extension again, and was promptly disconnected.
Second call, this time to customer service. Transferred to another rep, then waited on hold for 22 minutes until I was suddenly disconnected.
Third call, no hold time. Transferred to returns department. This is the shadiest, most dishonest department I've encountered. Like the Black Ops team of Dell's customer service. They told me I needed a reference number to waive the restocking fee. What reference number? Talked to a rep and her manager. They kept quoting the same script. It's their policy. I would have to pay the fee. They wouldn't budge.
I ask to speak to the manager's manager. He says his manager only handles administrative duties, whatever that means. He's the highest person I can speak with.
"You're Michael Dell?"
No, of course not, but they wouldn't transfer me higher. I hung up and started again.
Fourth call, transferred. On hold, system simply said "Good Bye," and hung up.
Fifth call, automated system. Transferred to a busy signal.
Sixth call, customer service rep told me I'd be transferred to a manager. Instead, disconnected.
Seventh call, talked to another rep, who transferred me back to an automated system. At this point, the automated systems are all sounding alike, so I'm not sure who I'm waiting for.
Finally, during that seventh call, I reach a rep who tells me I'm right, I don't have to pay a fee. Unfortunately, he can't process the return, because the purchase was a business purchase, and he's a consumer rep. Transfers me to a business rep, who also confirms I should not have to pay a fee.
I'm elated. I'm so relieved. I tell this person he's my favorite Dell employee. I spoke too soon, of course. He can't help me with the return, but he does promise to leave a note in my case file that I shouldn't have to pay. He says I don't need a case number, I just need to reference my order number.
He sends me back to the return department, the shady Black Ops group from call 3. They tell me I must pay the restocking fee. I ask them to check my case file. They want a case number, so I give them my order number.
So many numbers. Nothing in my file. I start throwing numbers at them. No, that's my order number. No, that's my customer ID number. No, that's the badge number for the rep with whom I spoke. Nothing helps.
I lose it. I call them liars and ignorant morons. I tell them their system is BS, and I spell it out to make my thoughts clear. I'm given two warnings, then my rep says she'll cut me off. If I just calm down, she can help me.
"So, you can waive the fee and refund all of my money?"
"No, our policy states . . . "
"Then you are a liar and a moron and you work for a horrible company!" I shout. The phone goes dead.
Eighth call, customer service. They tell me I have the wrong customer service, give me a new number. They transfer me; again I am disconnected.
Ninth call, I call customer service, and another rep confirms I am correct, there should be no fee. I ask for a case number. He says I don't need a case number, instead he will stay on the line while I am transferred to returns. Again, I'm filled with hope, then despair as the line goes dead again. I've been disconnected once more.
Finally, I decide to catch them at their own game. I'll record the first customer service rep telling me I'm entitled to a full refund, then the returns department telling me it's against their policy. I look around for a phone with a recording option.
The only phone I have on hand that will easily record calls is my Dell Aero. I plug it in and charge it up for its last phone call in my possession.
As soon as the rep answers I make clear I'm recording the call. Suddenly, everything is going my way. I'm transferred to the returns department, and not disconnected. The returns rep answers, and I again start by saying I'm recording the call. I explain my predicament. I'm clearly angry, but not yelling. She quotes policy, and I start to tell her my story again.
"What if I offer you a $25 discount on the phone?" I tell her I wouldn't keep the phone if they gave me a $300 discount. I tell her that I will never shop at Dell again, and I will encourage my friends to avoid Dell. I make it clear this is the worst customer service experience I've ever had.
I remind her that I'm recording the call.
She asks for a few minutes to speak with a manager. She tells me she'll try to get me a full refund. After two minutes, I finally find success. She offers a full refund, including purchase price, shipping and handling and sales tax.
Do I need to explain where things went wrong? Probably not, but here are a few simple guidelines.
Rule #1: Don't let a customer get disconnected on hold. Make sure every call goes through. I hate sitting on hold for 20 minutes, but what I hate much more, and what makes that experience memorable in a bad way, is when I wait on hold only to be disconnected.
Rule #2: Don't ask me for the same information every time. I had to give Dell reps or Dell's automated system the same order number 30 times. Literally, 30 times.
Rule #3: Cut down on the number of people I have to talk to. There should be two, at most. One to triage my problem, the other to solve my problem. If I need a manager, that's three people.
Rule #4: Keep everybody on the same page. I talked to four reps in sales who believed I shouldn't have to pay the restocking fee. I talked to three in the returns department who believed I should. They all quoted from the same document, which uses vague language.
I'm not writing this just to bash Dell. I've had great customer service at a variety of companies, even some with bad reputations. I've had great service from Apple, and also from Sprint and Bank of America. This was the worst customer service I've ever encountered, and it wouldn't take a dramatic change in policy to fix things. It would only take a few minor changes and some corporate education to make sure customers are having exactly the experience they are promised.
But if I've learned anything from this experience, it's that I will always record my phone calls to sales reps and to customer service.