HzO in talks with Apple and Samsung for future waterproof devices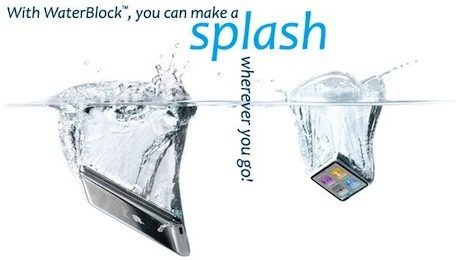 HzO is said to be in talks with Apple and Samsung about incorporating its "WaterBlock" waterproofing technology in future devices, such as the iPhone 5. The technology, demoed at CES 2012, uses a nano-scale film barrier during the manufacturing process to provide waterproofing without the need for bulky cases.
The WaterBlock technology uses a safe, non-toxic organic material that doesn't add any weight to a device. It's meant to keep devices safe from accidents involving water but is not meant to allow a product to be completely submerged for a period of time. However, HzO did demo the technology at CES by repeatedly dunking an iPhone, among other devices, in a fish tank of water.
According to Pocket-lint, HzO is already in the process of signing up a major smartphone partner as well as a headphones maker and is hoping to sign deals with all leading manufacturers. The company also revealed that Samsung was really impressed and that talks are already underway with Apple about implementing the technology with the iPhone 5.