Hyundai unveils fourth SEMA Show concept car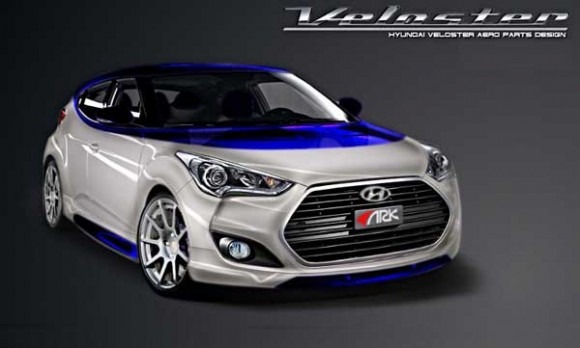 Today Hyundai has unveiled its fourth concept car that will debut at the 2012 SEMA show. The fourth concept car from the automaker is another version of the Veloster called the Alpine concept that Hyundai says is focused on extreme sports. The car started life as a Veloster sports coupe.
Hyundai then teamed with ARK to modify the way the vehicle looks and to add to the performance of the car. The theme is based on active sports with an Alpine theme, which is to say a winter sports theme. The interior of the vehicle was created by JPM Coachworks using a blend of Alcantara and WeatherTek fabric.
Hyundai says that these materials were chosen for their durability in wet environments. The vehicle uses a 1.6-liter direct injected Veloster engine that was modified with performance parts from ARK Performance. The engine modifications include custom turbo piping, a larger radiator, custom intake system, and nitrous oxide system, oil cooler, and more.
The modified engine produces 232 HP and 240 pound-foot of torque. Since the vehicle is made with a winter sports theme, on the outside it has a number of sports accessories, including a snowboard, bindings, and boots from multiple companies. The car also features custom paint, a carbon fiber hood and deck lid, custom headlights and taillights, and an ARK body kit and rally wing. The car rides on a custom coil over suspension system, has upgraded brakes, and lots more.