Hyundai shows off Velocity concept car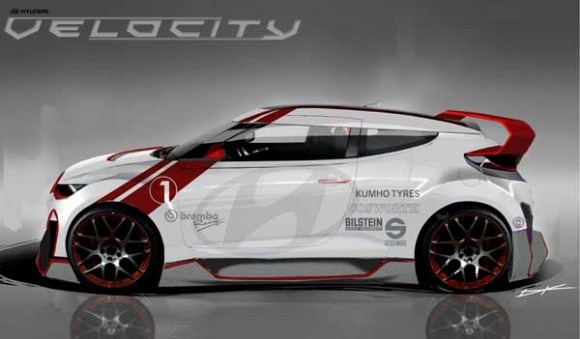 Hyundai's Veloster is one of the more interesting vehicles that the company makes. Typically, the company sticks to the economy cars or and less interesting people movers rather than sports cars. Hyundai has unveiled a concept car dubbed the Velocity that will be shown at the 2012 Sema Show that is based on the slick little Veloster.
The concept car was designed and developed through a joint effort between the Design and Engineering divisions of Hyundai America Technical Center in California. One of the most noticeable aspects of the concept car is the cool wheels with charcoal gray spokes and red behind the spokes. Those wheels are 19 x 9-inch HRE racing wheels shod with 275 wide tires.
The car is also fitted with a special custom lower body kit combined with front and rear brake cooling ducts. The vehicle also has a lift reducing rear diffuser and a large rear wing to help generate down force. The vehicle uses a 1.6-liter direct injected Veloster engine that has engine modifications performed by Cosworth.
Engine modifications include performance pistons, rods, a turbocharger, intercooler, intake manifold, fuel system, and custom engine management. The modified engine produces 400 HP and 350 pound-foot of torque. Hyundai also fitted the car with a special suspension system and brake modifications to make the car at home on the track or on the street.