Hyundai Genesis Coupe with 5.0 TAU V8 hits SEMA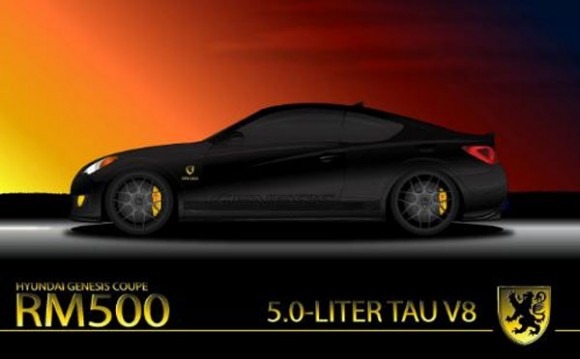 I have seen the Hyundai Genesis coupe up close and it looks good. The versions that pack Brembo brakes are especially appealing. Sadly, the car is packing an underpowered V6 under the hood, which completely ruins the deal for me. There is a version of the Genesis sedan that has a 5.0 TAU V8 under the hood and that is the engine that the Coupe really needs.
SEMA is gong on right now and with the show comes a bunch of custom cars from just about any brand you can think of. Racer Rhys Millen has taken one of the cool looking Genesis coupe, removed that V6, and crammed the TAU V8 into the engine bay. The car also gets other mods for an extra 20 hp out of the V8 along with mods for looks and handling to round out the package.
The car is a showpiece for the new line of RMR Genesis coupe parts that Rhys Millen Racing is producing. The car is tweaked inside and out with Sparco seats, new wheels, and a lot more. I would like to know the performance capability of the car. There is no indication of how well the tweaked car handles or performs.