Hyundai and Bisimoto team for 1040hp Santa-Fast SUV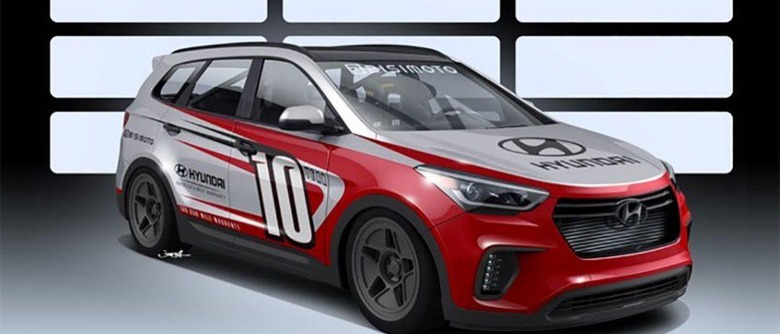 Hyundai has been working closely with Bisimoto for a long time on wild rides to be showcased at SEMA each year. This year is no different, the two firms have teamed up to create a heavily modified Santa Fe SUV that has been dubbed the Santa-Fast SUV and fast it should be. This beast of a SUV has 1040hp and delivers all that power to the rear wheels.
Power comes from a heavily modified, flex-fuel turbo Hyundai based 3.8L Lambda V6 engine. Despite the giant horsepower output, Bisimoto says that the engine is reliable. "Bisimoto takes pleasure in making any vehicle fun to drive, even a larger SUV," said 'Bisi Ezerioha, owner of Bisimoto. "Our Santa-Fast SUV is a proof-of-concept vehicle with driving capabilities that our customers can count on every day they turn the key."
The rear -wheel drive powertrain and 6-speed manual gearbox are custom creations and were designed to look as if it came from the factory that way. Maximum boost from the twin- turbo engine is 39psi, but the vehicle uses a boost-per-gear protocol to allow for traction.
The list of modifications to the engine is incredibly long and involves virtually every component of the engine being replaced. The vehicle rides on custom axles and half shafts and has KW coil-over suspension. Buddy Club 4-piston brakes are on the car to stop it. Inside the Santa-fast gets a 4-point chromo roll cage, racing harnesses, and Momo Daytona EVP racing seats. Wheels are 19-inch tarmac R40 units shod with Toyo R888 265/35R 19 tires. We should see some real pictures of the Santa-Fast when SEMA kicks off, the rendering here is all we have for now. I always wonder what happens to these wild rides after the show.
SOURCE: Hyundai