HyperDrive Compact Thunderbolt 3 USB-C hubs adds all the ports to Macs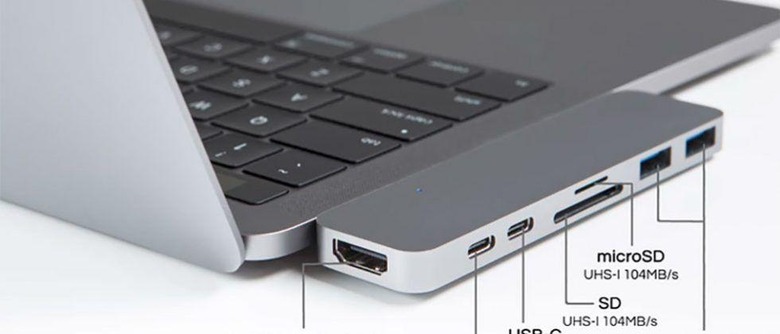 Mac users know that the thin and svelte design of the latest MacBooks means that the connectivity options for the notebook are limited. You need a different dongle for just about anything you want to connect to the Mac. A new product called the HyperDrive has turned up on Kickstarter and it may be the ideal thing for MacBook users looking for expanded connectivity.
The designers call the HyperDrive the most compact and fastest 50Gb/s Thunderbolt 3 USB-C hub for MacBooks. The device adds a HDMI output, USB 3.1 ports, microSD/SD port, Thunderbolt 3, and USB-C ports. The hub is designed to plug into both of the USB-C ports on the side of the MacBook.
It is compact and hangs off the side of the notebook adding bulk to the machine, but giving you back the ports that Apple eliminated from the current MacBook that older models offered. The 50Gb/s bandwidth is more than other USB-C dongles on the market and offers enough bandwidth for all the ports on the HyperDrive to be used at the same time.
The Thunderbolt 3 port on the HyperDrive supports up to 100W power delivery so you can charge the MacBook Pro at full speed while using the machine. The HyperDrive has blown its Kickstarter funding goal of $100,000 out of the water raising over $268,000 as of writing with 40 days to go. A pledge of $69 or more will get you a silver or space gray HyperDrive with shipping in March 2017. The retail price will be $99 when the HyperDrive hits the market.
SOURCE: Kickstarter