HydroBOB Puts The Scooter Underwater [Video]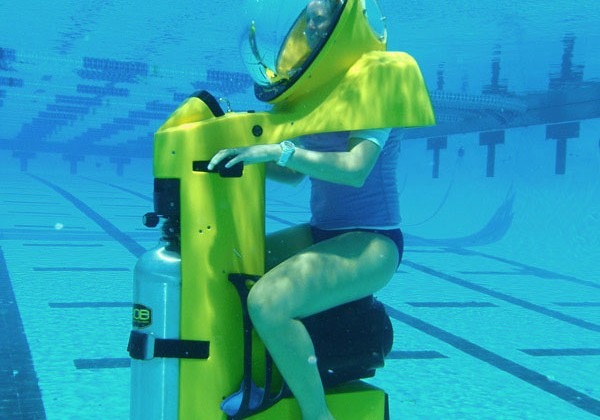 For those with no diving experience, or who don't know how to swim, Andrew Sneath has created an underwater vehicle just for you. Offering a controlled environment, and the ability to breathe regularly thanks to a bubble around the rider's head, the HydroBOB underwater scooter is perhaps not the most graceful device to ever descend beneath the waves, but it does look like a somewhat safe method to experience the joys of being underwater.
The HydroBOB is consisted of three parts: the scooter, a viewing bubble that has a 180 degree view, and an oxygen tank. The rider sits on the seat and holds onto the handlebars, where triggers can be used to control the thrust. As we said above, the ride doesn't seem to be all that smooth, but we imagine that it could probably be a lot worse. The ride is slow, but for those who can't swim, that may be a good thing.
The underwater scooter is connected to a support structure above the surface of the water. Considering the large tether that connects the scooter and the support structure above, the HydroBOB probably can't go very far. The BOB in HydroBOB stands for Breathing Observation Bubble. If you're interested in taking a ride on the scooter, you'll have to head to Ft. Lauderdale, Florida, where you can rent your very own for $25 per hour. Or you can rent one for a private event. Check out the HydroBOB in action below.
[via TechnaBob]