Hybrid Tube Amp for Raspberry Pi is an audio fans dream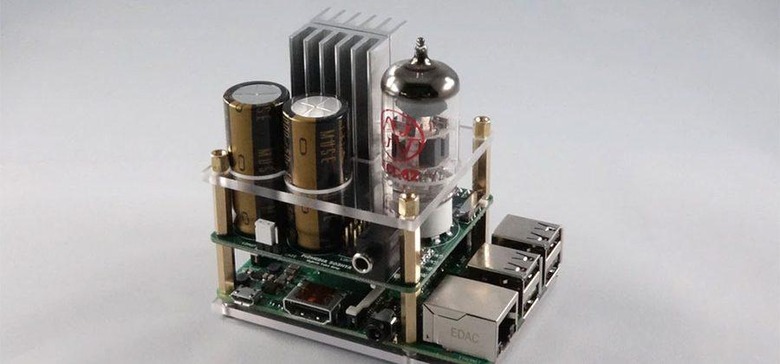 Electronics tinkerers know that there is little that you can create with some imagination and a Raspberry Pi developer board. A new product has landed for the Raspberry Pi and this time it's something that audio fans will really appreciate. The Hybrid Tube Amp for Raspberry Pi promises to bring the rich analog tones that audiophiles love.
The tube amp is officially called the 503HTA Hybrid Tube Amp HAT and it is designed and made by Pi2Media, which is a division of Pi 2 Design. The device is an I/O Shield designed to bring tube sound to the Pi line. The HAT is able to drive headphones from 32-300 ohm.
The tube amp is based on the Bravo V2 and has an on-board PSM5102A DAC driving a single stage 12AU7 or 6922 tube. Modifications to the Bravo V2 include IRL510 Output Mosfet; Regulated Heater Voltage to reduce cross-talk; Adjustable Plate Bias for Tube Rollers; Nichicon MUSE Output Capacitors; and Jumper-able output impedance of 1.5, 32 and 100 ohm and switchable gain selection. The Class-A Output Stage uses an IRL510 and LM317A. The tube amp has a dedicated heater supply to eliminate crosstalk. The entire device is Raspberry Pi HAT Compliant Size with a 40-pin mating connector. It uses a 24-bit DAC and supports up to 24-bit 192 Khz frame rate.
A 3.5mm headphone jack has selectable resistance of 1.5, 32, and 100 ohms. The project is on Kickstarter now seeking $20,000 and has raised over $50,000 as of writing with 383 backers and 28 days to go on the project. A pledge of $119 or more will get you one of the amps with an acrylic case and your choice of tube. Available tubes include a JJ 6DJ8 (ECC88) or JJ 12AU7 (ECC82). Shipping is expected by September 2016. The amp doesn't come with the Raspberry Pi itself, you have to bring your own for the amp to work.
SOURCE: Kickstarter