Humble Bundle Game Deal Is Back With An Indie Pack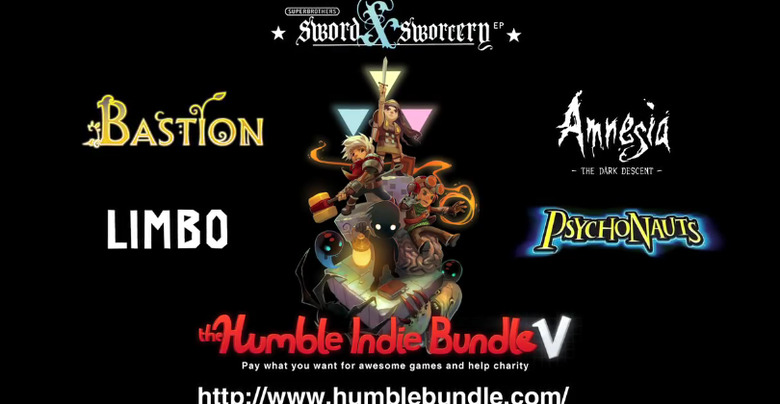 Who's ready for the next Humble Bundle? Today they've just launched the Humble Indie Bundle V, their 5th round of the popular game pack. If you're asking yourself what the Humble Bundle is you'll want to click here. Essentially you get multiple cross-platform games for one low price, and you choose the price. What makes it even better is some or all of your purchase goes to charity. More details on the awesome games below.
For round 5 of the bundle you get your chance at 5 awesome Indie games. You'll automatically get the four exciting offerings once you donate, and if you pay more than the average you'll also get the popular game Bastion. I'm excited to see LIMBO in here, because that game is awesome (and I want it on Android.) Here's what you'll get with this latest Humble Bundle:
Amnesia: The Dark Descent – First-person survival horror game
Psychonauts – Action platformer
LIMBO – The awesome puzzle-platformer
Superbrothers: Sword & Sworcery EP – Unique action-adventure game
Then if you pay (donate) more than the average at the time of purchase you'll get the fifth game free, which is Bastion. Again remember that you can give as much of your purchase/donation to the developers, to the Humble Bumble creators, or to charity. You can split it three ways, or give it all to charity so you feel warm and fuzzy inside. This is a truly a great cause, and all the games are cross-platform. Meaning you can play on PC, MAC or Linux. Here's more info:
You might already own a game or two from the deal, but it's a great cause and LIMBO is worth a few dollars alone. @Humble just tweeted they've sold 10,000 in 23 minutes, so you'll probably want to get in while the price is still low folks.
[via Humble Bundle]