Hulu VR app launches with a couple dozen 360-degree films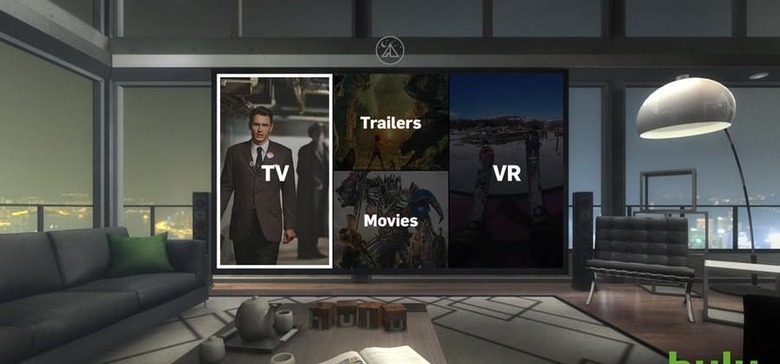 Netflix's VR app puts you on the couch in a cozy cabin somewhere in a wintery paradise. Hulu's newly launched VR app goes the opposite direction, positioning viewers in the middle of a modern, somewhat minimalist high-rise condo above a big city. The Hulu VR app works on the Samsung Gear VR headset, and has been launched alongside some 360-degree content for more than just mask-on-face passive content consumption.
Watching shows with a VR headset allows you to experience them as a big-screen experience — some apps let you watch movies in different environments, like a typical movie theater or a fantasy world. It's an interesting twist on the common act of watching TV, one that seemingly eliminates the need for a fancy home theater. Why bother with a dedicated entertainment room when you can strap a headset on your face and watch movies in any environment you can imagine?
Hulu plans to launch some exclusive original VR content for the virtual reality fans out there. In the meantime, users can watch the streaming service's library of regular (read: non-VR) videos using the app, seeing them as if they're playing on a large TV in that aforementioned fancy high-rise. Those who don't like watching the content in the simulated apartment have the option of switching to a "scenic beach."
At launch, Hulu has 25 "pieces" of VR content available in the Hulu VR app from various makers, including National Geographic, Discovery, Showtime, and more. These 3D videos can be watched by anyone with the right gear, including those who aren't Hulu subscribers. You can see a list of Hulu's current VR content here.