Hulu Renews 'Future Man,' But Season 3 Will Be Its Last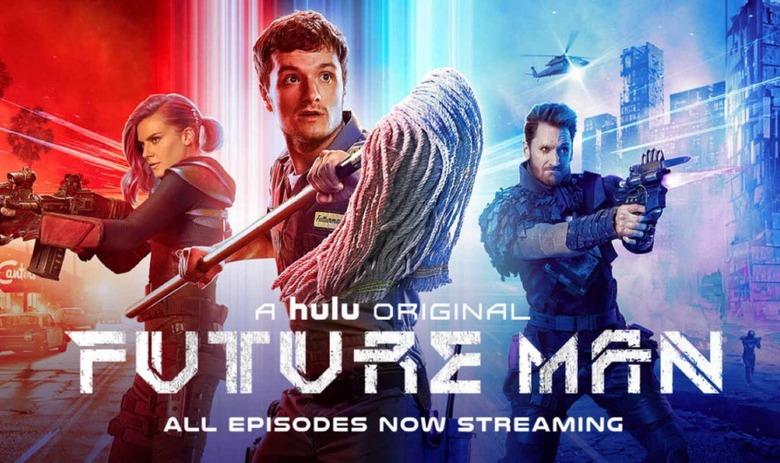 Future Man, an original Hulu comedy series that features Josh Hutcherson and Haley Joel Osment, has been renewed for a third season, the company has announced. Fans will get another eight episodes, but they'll be bittersweet: this will be the show's final season. The series revolves around character Josh Futturman, a daytime janitor and nighttime gamer who gets tapped to save humanity.
Future Man has enjoyed fairly solid viewer and critic ratings over its first two seasons, making it one of Hulu's more notable original shows. The series has some big names behind it, with Seth Rogen, Evan Goldberg, Ariel Shaffir, Matt Tolmach, Kyle Hunter, and Ben Karlin as executive producers.
Actors Hutcherson, Derek Wilson, and Eliza Coupe will be returning for the show's third and final season, according to Deadline. Future Man Season 2 debuted on Hulu on January 11, climbing its way up to a rare 100-percent rating on Rotten Tomatoes. Hulu hasn't announced when Season 3 will premiere.
Future Man joins a number of recent series finale announcements and show cancellations. Notably, Seth Rogen revealed on Monday that AMC will be ending Preacher with its fourth season, which debuts on the network on August 4.
Other shows will be returning and new ones will be premiering, of course. The BBC revealed in recent weeks that it will be bringing Killing Eve back for a third season, and AMC recently announced plans to launch a third television series based on its The Walking Dead universe.