Hulu Looks Back On 2012, Closes The Year With $695 Million In Revenue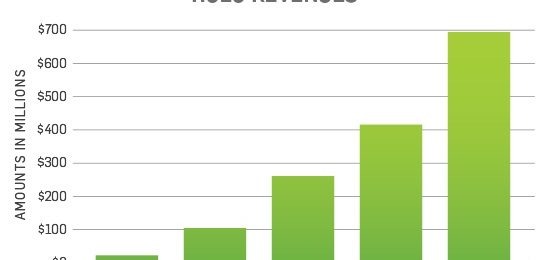 While 2012 was a good year for some and one that some others would probably like to forget, it was great for Hulu. The video streaming service has posted a look back at 2012 on the Hulu Blog, along with plenty of statistics on how much it grew throughout the year. The company announced today that it pulled in approximately $695 million in revenue, which you can see is quite the jump over 2011's revenue in the graph below.
It gets even better for Hulu though, as it reports that Hulu Plus now has 3 million paying subscribers. The number of Hulu Plus subscribers doubled in the past year, as it was sitting below 1.5 million when 2011 came to a close. Hulu Plus grew steadily throughout the year, receiving its biggest boost in quarter one. We can probably expect a similar jump in Q1 2013, as many people will have just received a new device capable of playing Hulu's videos.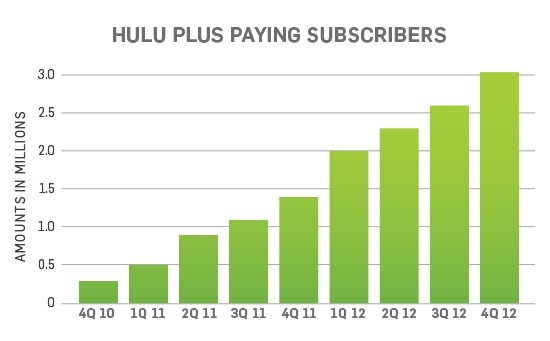 It was also a big year for content, as Hulu says it grew offered content by 40% during 2012. That's pretty aggressive growth, with Hulu now working with 430 content partners – those are partnerships that have put 60,000 TV episodes from 2,300 series on the streaming service. In 2012 alone, Hulu paid $500 million to make new content available, and since launching back in October 2007, it has paid out more than $1 billion to its partners.
All things considered, 2012 sounds like it was an excellent year for Hulu. It's only getting more popular as time goes on, though it still has a ways to go before it can challenge Netflix for streaming domination. We're looking forward to seeing what Hulu does in 2013, and if it's as big as 2012 was, then it should be another excellent year.