Hulu Live TV Review: The promise of good things to come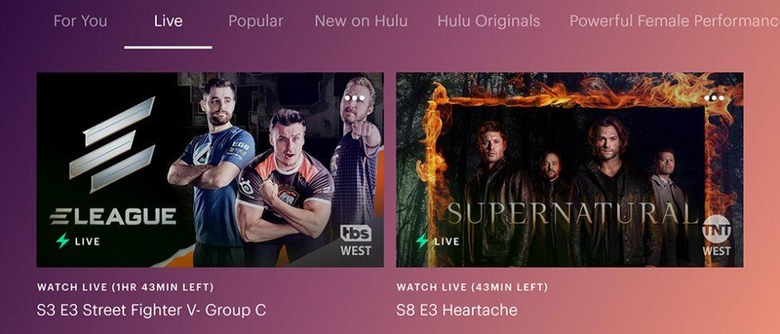 Hulu has finally launched its own live TV product, following in the footsteps of competitors like DirecTV NOW, PlayStation Vue, Sling TV, and most recently, YouTube TV. It's an exciting time for television, at least as far as consumers are concerned, ushering in a level of freedom unprecedented in the live TV industry. As we've detailed for most of these products in the past, subscribers get access to things like mobile device streaming, multi-platform support, cloud DVR storage, and more. The big question now is: how does Hulu's service compare to the rest?
Interface
The most impressive thing about Hulu TV is that it isn't a separate product — the entire app interface has been overhauled and the live TV product has been seamlessly integrated, so much so that you don't feel like you're watching traditional television at all. On-demand content and live channels reside in the same overall package to such an integrated degree that it's nearly impossible to imagine them as two wholly separate types of entertainment (on-demand versus live).
All the best things about Hulu remain in the new interface; you can easily find shows you've already been watching, pick up where you left off, and move. Upon setting up your new profile in the new app, you'll even be given the option to import your 'old' Watchlist from the now mostly defunct former Hulu UI. The setup process involves choosing the types of shows you watch, the networks you watch, specific titles you enjoy, and more.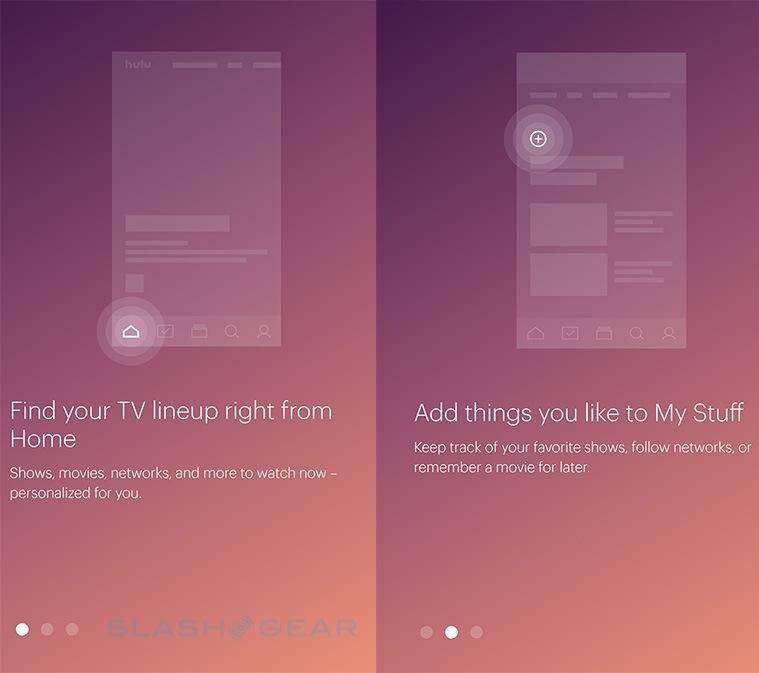 Once the setup process is finished, you're taken to the main screen where all the changes — most of them for the better — become apparent. Browsing content and categories is as simple as moving to the right and left. Browsing content within any particular category ("My Channels," for example) simply involves scrolling down. Each episode has a small three-dot button that, when tapped or selected, opens a description panel with all of the episode's relevant details.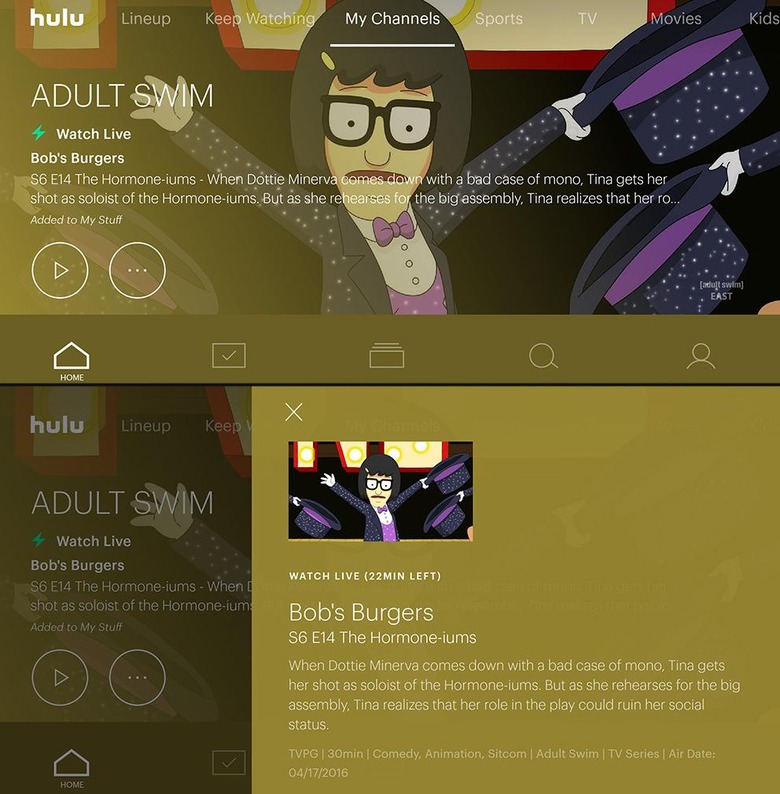 It really is that simple. Building on top of the interface itself is the underlying technology you never see but always benefit from. Hulu uses a variety of personalization techniques to present content you (probably) want to watch at every turn. The "My Stuff" section of the app is the epicenter of this personalized content, bringing together all the shows you've watched, marked as interested in watching, your favorite channels, and more, all into a single isolated area.
Within this area, the personalized content is further refined so that it is easy to sort through. TV Shows are grouped together, as are sports and movies. Swiping further to the right will take you to your favorite sports teams (if you have any), then to content that will be expiring soon. Swipe all the way to the right and you'll be within your own cloud DVR where the stored content can be accessed and managed.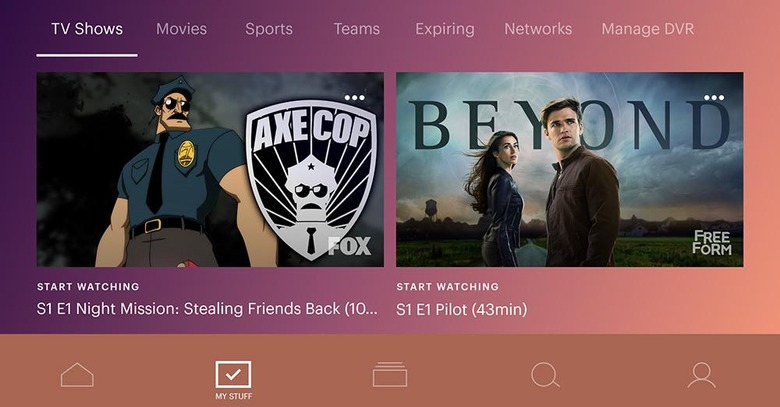 If that still feels too cluttered or complicated, Hulu has another section of the app that makes it even easier: "Browse." Tap the middle icon on the bottom of the app and you'll be taken to a section where content is broken down in the most simplistic fashion — by its broadest category, such as "Kids," "TV Shows," "Networks," "Movies," and "Hulu Originals."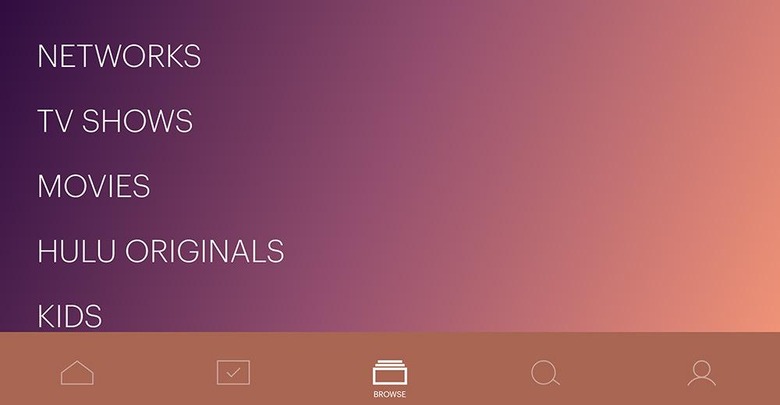 Tapping any given category opens a new clean page in which the only things you see are TV show episodes and movies...both live content and on-demand. For live shows, the page indicates how much time is left in the episode whereas on-demand content looks similar, but without those finer (and irrelevant, in this case) details. As usual, navigating involves moving right to left, up and down.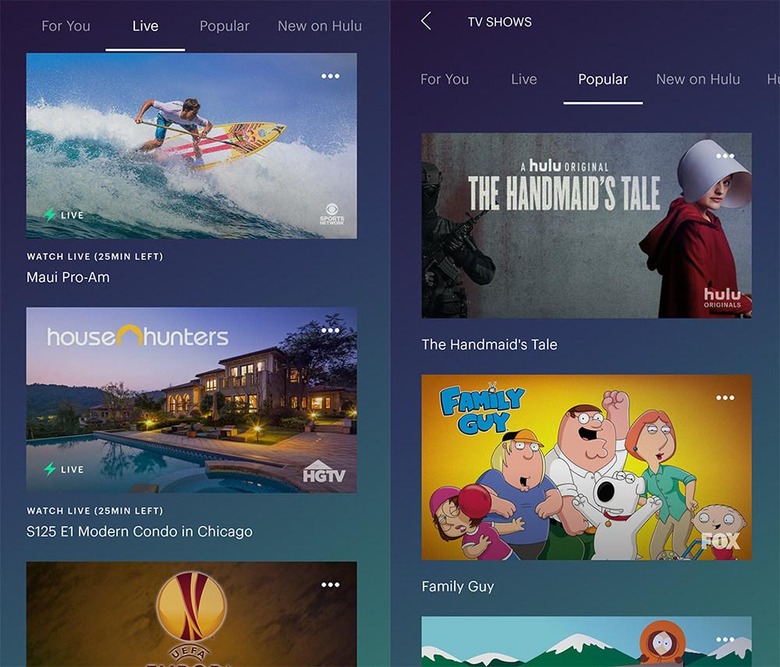 At this point, there's one very obvious and very big difference between Hulu and basically every other live television service in existence: the lack of a traditional TV guide. On most services, including things like PlayStation Vue and Sling TV, live content is provided on a large guide where episodes are slotted into rows and columns marked with broadcast times and channels. This type of channel guide has been around for so long because it works so well. I must admit, I felt a bit lost and blind without one.
That feeling disappeared, though, after using the app for several minutes. It's clear that Hulu put a lot of thought into the app's overall functionality and the entertainment experience as a whole. It would be impossible to have such clean and seamless integration of Hulu's on-demand content with a traditional TV guide; it would split the products into two (live and on-demand) and no amount of menus and rapid toggling could change that. To make the two into one, Hulu had to get rid of the traditional TV guide experience and the end product is better as a result.
Video quality and navigation
I spent a Friday evening watching streaming content through Hulu Live TV on my phone and at no point did I have any trouble with the video stream. This is contrast to my early experiences with both Sling TV and PlayStation Vue. Shortly after Sling TV's launch, I'd found the combination of buffering issues and poor navigation experience frustrating enough to cancel altogether. My initial experience with PlayStation Vue was more favorable and I used it for months, but there was a buffering issue that popped up on a regular basis, mostly affecting commercials.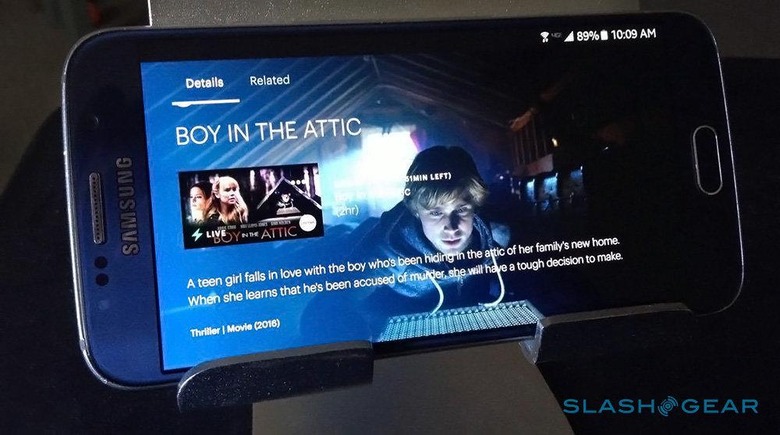 Neither of those issues have presented themselves with Hulu Live TV, and I'd put this service at the top of my list as far as usability and video quality is concerned. For reference, I have a 45Mbps AT&T U-Verse DSL connection — it's not terrible, but it's not great either.
Meanwhile, video navigation is great. Users are able to skip forward and backward in 10-second increments. If you've jumped back at any time, you can go back to the live time by tapping/selecting "Jump to live." The navigation screen also presents a "Flip tray" (if you're on mobile) that itself opens a clean navigation screen. On this screen you'll find the option of adding the episode to "My Episodes," view what show is going to play next, similar shows that are currently live on other channels, and similar.
Upon tapping a similar show playing a different channel, the Hulu app instantaneously switched from one video to the next. To say I'm impressed with the service is an understatement at this point.
This screen also has a small 'gear' icon that, when tapped, presents two different options: "Subtitles & Captions" and "Video Quality." Captions can be turned on, off, or set to automatic. Video quality can be adjusted to low, medium, high, or likewise set to automatic.
Channels
I'll go so far as to say it now: Hulu Live TV is the best Internet streaming live television service thus far available. But. But. It isn't perfect, nor did I expect it to be. There's firstly the issue of no Viacom channels, which is mostly Viacom's fault, not Hulu's. We previously saw Viacom channels disappear from PlayStation Vue for reasons that were never fully laid bare, but the general consensus is that Viacom doesn't really like these OTT services and it is being a bit difficult as a result.
So that's not a strike against Hulu, but it is something to keep in mind. Unlike with PSV and others, though, Hulu still has an edge...you may not be able to watch Comedy Central live thanks to the lack of Viacom channels, but Hulu still offers some of its shows as on-demand, including South Park. The same is true for some Nickelodeon shows like Spongebob Squarepants.

The channel lineup is generally strong and I can't personally say that it is missing anything I can't live without. However, there's a notable lack TLC, which means you'll have to get the latest episode of My 600lbs Life and Hoarding elsewhere (Amazon Prime, for example). Discovery channels are also notably lacking, though there are multiple National Geographic offerings, which may serve in substitution. As far as channels go, it boils down to what you personally want.
Hulu does offer some channels that are missing from select other services, though this is bound to change over time as services tweak their offerings and contracts fail to be renewed; always check the channel lineup yourself before signing up to ensure nothing has changed. Hulu Live TV does have an impressive lineup overall, including a strong sports offering, Disney channels for the kids, more than half a dozen news channels, and some of the staples like "ABC."
Restrictions
Now we get to the part where the downsides come out to play. There aren't many of them, fortunately, but they're the foundation upon which a proper service comparison can be based. First things first, you can only use Hulu Live TV on up to two devices simultaneously, which is less than some competing services.
Another limitation is that Live TV is a single plan. That may change in the future, but as it stands today, you get the ~50 live channels for $38.99/month and that's it. With something like Sling TV, you get a lot more content and a lot more freedom in that subscribers can add channels to their core plan for extra small fees. If you're a true television connoisseur who needs all the strange little niche channels, or you need channels in languages other than English, etc, you'd be better off with Sling or possibly Vue or DirecTV NOW.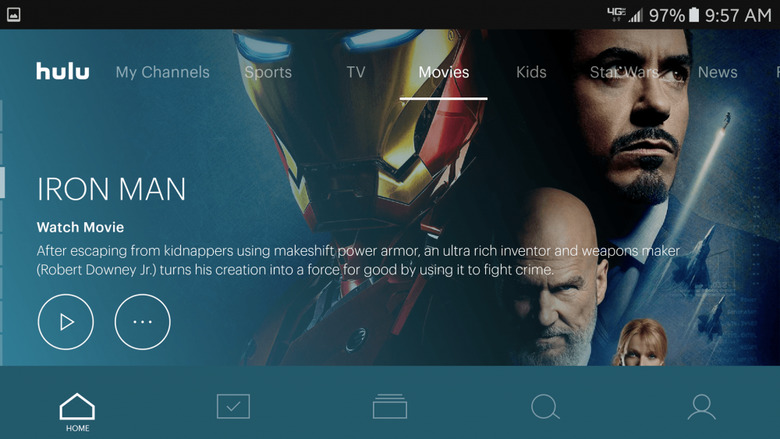 It would only be fair, though, to point out that the large and seamless library of on-demand content helps soften the blow. Another potential downside is that only 50 hours of cloud DVR storage are available as part of the plan; if you want to get the 'enhanced' service with 200 hours, you'll have to pay extra.
Another possible problem for some subscribers is the limitations on where you can watch the content. You can only watch your shows if you're located in the US/Japan/US Military bases, otherwise international streaming is unavailable. Hulu will block your access if it detects that you're using a VPN/proxy to try to get around this...or so the FAQ page warns.
The VPN/proxy limitation appears to be imperfect. I was able to watch live television with the Android app while using Opera's free VPN service, so your mileage may vary. I wouldn't suggest signing up under the assumption that you'll definitely be able to skirt around geo-restrictions, though. If you're using the app from your smartphone, it won't work unless you have Location Services running.
Wrap-up
At various times I have subscribed to both PlayStation Vue and Sling TV, and I've liked each service well enough, though not enough to remain a paying subscriber. I have, however, been a Hulu subscriber for many years and I don't see that changing in the immediate future. The addition of a live TV to the overall Hulu experience, plus the entirely redesigned interface itself, has taken an already enjoyable service and boosted it into a new tier of existence, the first one I've ever encountered that feels truly modern, reimagined, and ready to please the growing masses of cord-cutters.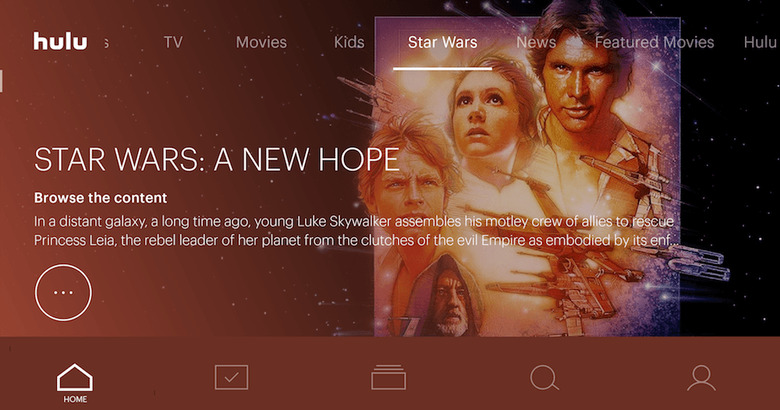 Hulu Live TV is currently available as a beta and is limited to only a handful of devices, including Xbox One, Android, iOS, Chromecast, and the latest Apple TV. In the future we'll see it arrive on Roku, Amazon devices, PC/Mac, and Samsung smart devices. There's no mention of PS4 at all, which is disappointing. If you don't mind the device restriction, Hulu has a one-week free trial available and I recommend that everyone give it a try.