Hulu Live TV beta update brings picture-in-picture, more to web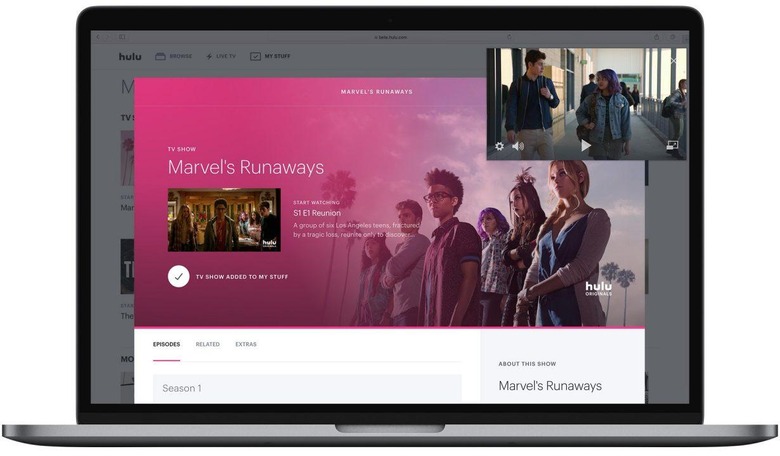 Hulu is launching a bunch of new features for Live TV subscribers today. All of these features are launching in beta – which means you'll have to visit Hulu's beta site to take them for a spin – but we have a feeling that most Live TV subscribers will want to dive right into the beta when they hear what's in this update. All three of these features will change the way that Live TV subscribers navigate Hulu's web interface, and perhaps the biggest changes are coming to the My Stuff page.
Hulu says that upon logging in on the website and selecting a profile, you'll now be able to jump right to your My Stuff section from the navigation bar at the top of the page. You can now also add content to My Stuff from any movie or TV details page on the website, and one of the handiest new features is the ability to delete things from your My Stuff page en masse.
Support for picture-in-picture is also going live today. With this feature, you'll be able to minimize the show you're currently watching to browse other content, which allows you to continue watching that show or movie while you see what else is available. Even better is the fact that the minimized player can be moved around your screen, so you can place it where it's most convenient.
Finally, Hulu is also launching an improved Search today. Search results will now show you individual episodes and sporting events, but it goes beyond that. You'll also be able to search for movie descriptions, which will be helpful when you've forgotten the title of the movie you want to watch or you want to find a certain type of movie.
If you're a Live TV subscriber (or you have HBO or Cinemax through Hulu) and you want to try out these new features for yourself, you can head over to Hulu's beta site, where the changes should be live. Hulu doesn't give a time frame for when these changes will exit beta, and for the moment, we're not sure if they'll ever become available for users who aren't subscribed to Live TV. We'll keep an ear to the ground for more, so stay tuned.