Hulu introduces new Video Games Hub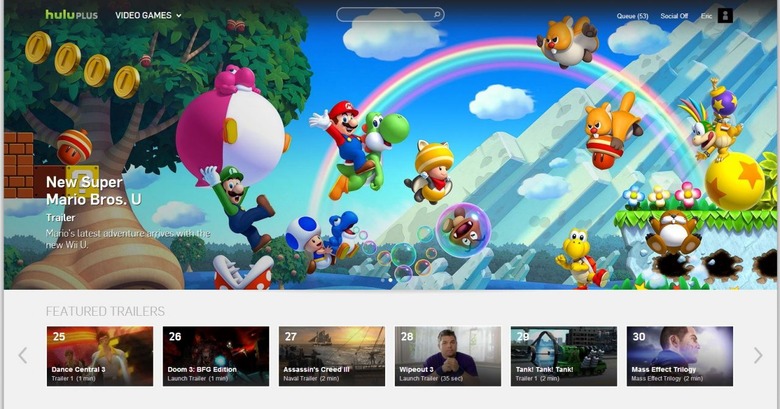 Hulu is already great for catching up on your favorite TV shows and even watching a movie or two, but starting today, it's also good for checking out the latest video game trailers. Hulu has introduced its new Video Games Hub, a new page dedicated to showing off the latest trailers for all of the incoming games. You can also get release information for upcoming games too, so Hulu's got you covered when it comes to new titles on console, PC, and handheld.
The Video Games Hub is live now, and it's already got a bunch of trailers ready to watch. Browsing through the long list, users can find trailers for Assassin's Creed III, Grand Theft Auto V, New Super Mario Bros. U, and BioShock Infinite. There's a section dedicated to Electric Playground episodes so you can get video game news in video form, along with a section for reviews from X-Play (though we can't imagine that section of the Hub will be around for much longer).
Not feeling video game trailers? Hulu says it will also be offering gameplay videos through its Games Hub, and there's also a selection of video game-related movies to check out. All of these seem to be documentaries about games and gamers, so at least for the moment there aren't any actual movies based on video games (though maybe that isn't such a bad thing).
So there you have it – Hulu now offers video game trailers alongside gaming shows and documentaries. Hulu says that starting out, this feature will only be available on PC, but it'll begin rolling out to other devices before long. What do you think of Hulu's new Video Games Hub?
[via Hulu Blog]