Hulu introduces GIF collection to meet (mostly) any need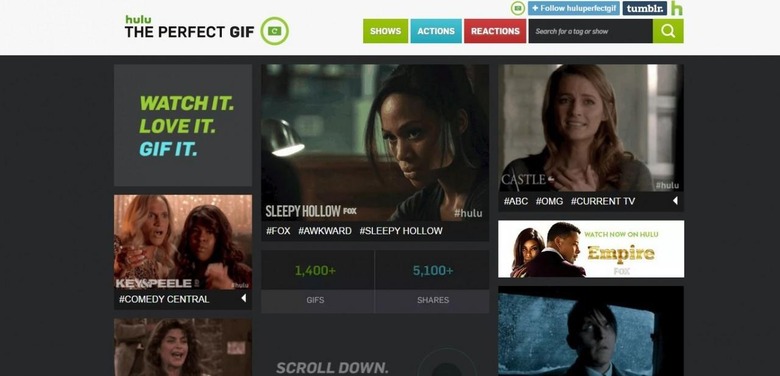 GIFs are a staple of the Internet, serving as a way to express an emotion or a statement without text, and as a convenient way to show snippets of animations without posting or viewing an entire video. Getting those GIFs has become easier over the years, including the introduction of YouTube's own GIF creation tool, and latest to provide them is Hulu. Most fittingly, it has launched its new GIF portal on Tumblr, and as expected, they're clipped from the service's streaming options — mostly modern television shows.
The GIF collection is available on Tumblr, where users can search for "The Perfect GIF" for whatever occasion — this is made easier with the sorting tools, which lets users filter the GIF results based on things like 'Reaction' and 'OMG', as well as current television shows.
There are hashtags, which helps narrow down the results, and there's also a general search field in which users can hunt for GIFs based on either a show or a hashtag. Furthermore, collections are sorted based on things like "Popular" and "Alphabetical", making it easy to dig deep into the collection.
The GIFs include branding with the network name for the whichever channel the show is airing on, as well as a "#hulu" tag, lending a bit of advertisement to both while, the company seems to hope, providing the Internet with an organized collection of animation snippets. So far there are more than 1400 high-quality GIFs available.
SOURCE: Hulu Tumblr, TechCrunch