Huawei P30, P30 Pro details leave little left to be announced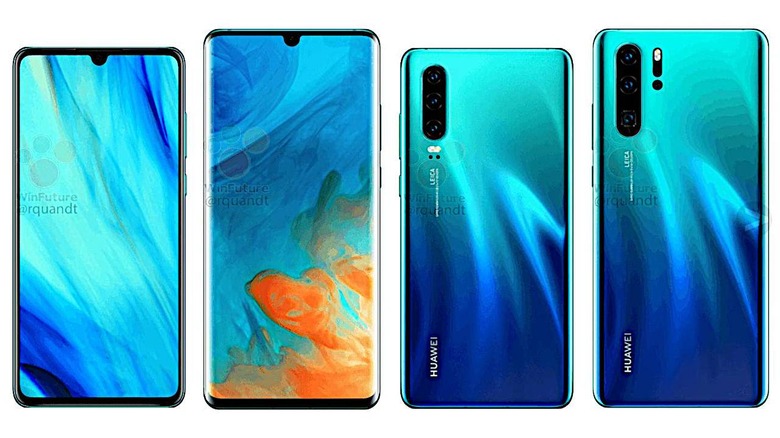 The smartphone industry has a leak problem though it works both ways. On the one hand, it helps drive excitement for the availability of a new phone. On the other hand, though, it almost makes announcements almost boring or disappointing if they check off all the expectations. With just a few days before its isolated Parish event, almost all details for Huawei's upcoming flagship have been leaked out. And, suffice it to say, you might have mixed feelings about the Huawei P30 and especially the Huawei P30 Pro.
Make no mistake, the P30 Pro's cameras could very well blow everyone out the water. On its back will be found a 40 megapixel f/1.6 main camera with OIS and a 20 megapixel f/2.2 wide-angle camera. This is joined by a camera with a periscope-style zoom lens and a focal length equivalent of 135 mm. That alone gives the Huawei P30 Pro a 7.8x zoom and, with some software help, 10x hybrid zoom. And then there's the time-of-flight (ToF) sensor that will mostly be used for AR applications.
There are some details, however, that might cause some to think twice. Gone is the 3D face ID, replaced by a single but large 32 megapixel front camera in a tiny waterdrop notch. The screen, which now curves at the sides like the Huawei Mate 20 Pro, is large at 6.47 inches but its 2340x1080 FHD+ resolution gives it a lower pixel density. There is also no headphone jack, though there might an IR blaster at the top. There is also no conventional earpiece speaker so Huawei has presumably adopted a "screen speaker" technology this time around.
In contrast, the Huawei P30 is more conventional and is more directly related to last year's P30 Pro. With a smaller and flat 6.1-inch screen, the same 2340x1080 resolution will make things look sharper. There's also a headphone jack for those who need that port. Sadly, the triple cameras might not be to everyone's satisfaction and the lack of 3D face recognition in lieu of a smaller notch might disappoint others.
With these details, Huawei fans might feel a bit conflicted about the company's offering this year. It might be the one to beat if you're willing to ignore everything else for the sake of those cameras. But if you're looking for a well-balanced smartphone, it could a tough decision to make.