Huawei P30 images show off flat tops and bottoms
In just a few days, Huawei will be unveiling what many expect and some hope to be the camera smartphones of the year, topping the company's own Huawei P20 Pro and Mate 20 Pro from last year. While that will be the biggest change inside, Huawei has changed very little on the outside of the Huawei P30 and P30 Pro. The most subtle and almost unnoticeable change? Having somewhat flat tops and bottoms as shown by fresh batch of images showing the phones on every side, including, well, the side.
It's not really a big change and one that will probably have little consequence, much less practical use. These days, however, we have more or less become accustomed to the curved edges of smartphones, which admittedly make more sense at the sides where they rest inside our hands. Curved tops and bottoms simply complete the look and make the design consistent.
For one reason or another, Huawei is ditching that convention. Then again, these images could just be off by a few details, though Roland Quandt insists they're the real deal. Whether or not they serve any real purpose beyond aesthetics, we won't know until later this month. Suffice it to say, you won't be doing any standing tricks with it.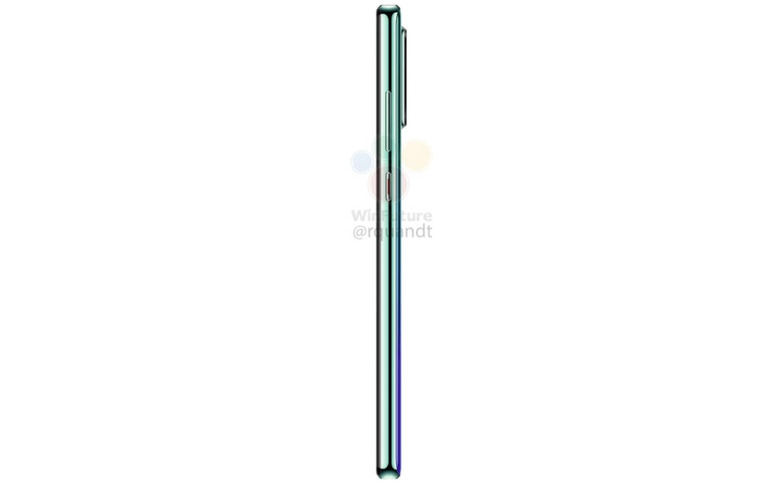 The other major redesign is the more unified camera bump on both phones. The Huawei P30 Pro, however, still has a separate hole for the flash and what is believed to be a time-of-flight sensor. Rather than make the triple camera hole even longer, it puts those two beside the cameras instead, creating a somewhat odd and unbalanced look.
Most people will forgive it that if Huawei delivers what has been leaked for quite a while now. Beating OPPO to the punch, the Huawei P30 Pro might be the first commercially available phone with 10x zoom utilizing a periscope system to fit all the lenses in such a thin space. Given Huawei's marketing blunders, however, it's probably safe to wait than get hopes up from teasers.