Huawei Nova 2s brings two cameras front and back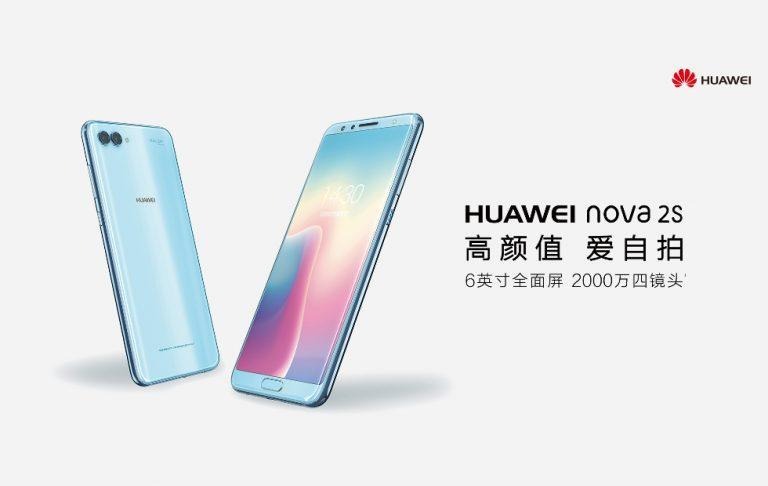 Huawei may have finally gotten its 2017 flagships out the door, but it hasn't stopped its flow of new smartphones yet. It has just announced a new model in China, the Nova 2s, that further blurs the boundaries between premium flagship and mid-range phones. Mixing last year's high-end specs with some of this year's trends, the Huawei Nova 2s give some Chinese buyers pause to consider yet another contender for this year.
The Huawei Nova 2s is clearly a 2017 smartphone by the way it uses "double-sided glass" as its primary design cue. And, of course, there's the dual cameras on the back. But what really pins it down is the 6-inch 18:9 screen, 2160x1080 Full HD+ of course.
Inside is a bit of a mixed bag. The Kirin 960 has already been supplanted by the 970 in the Huawei Mate 10, but the Huawei P10 from earlier this year still uses it. The 4 GB RAM and 64 GB storage combo is an early 2017 configuration, but there's also an option for 6 GB of RAM. The 3,340 mAh battery is definitely more than what most of the more expensive phones offer.
What's notable about the Nova 2s is that it also has a dual camera on the front. That said, unlike the typical Huawei RGB and monochrome combo on the back, the front camera only has a 20 megapixel and 2 megapixel pair, both with a lower f/2.0 aperture.
As with most of Huawei's phones, no word when or even if the Nova 2s will launch outside of China. There, the smartphone will sell for 2,699 RMB ($410) for the base 4 GB RAM/64 GB storage configuration all the way up to 3,499 RMB ($530) for 6 GB of RAM and 128 GB of storage. Definitely higher than your usual mid-range.
SOURCE: Huawei