Huawei Mate X foldable phone isn't ready for prime time yet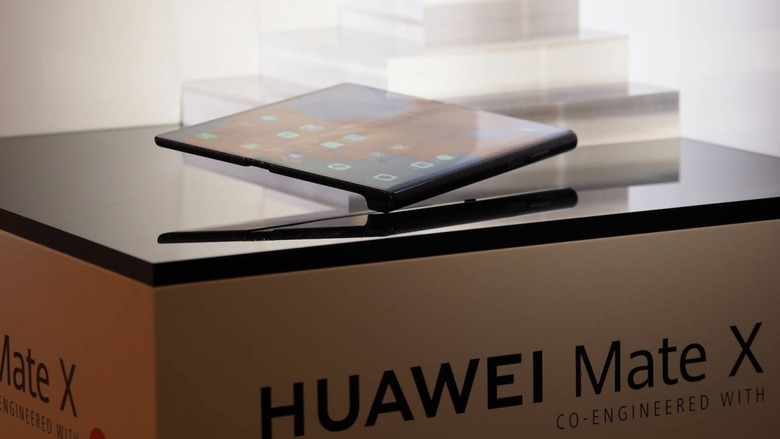 Samsung has formally announced when its foldable phone will be returning to the fold. Come what may, save for another disastrous design flaw, the Galaxy Fold will launch in September, though at least one carrier has already expressed disinterest in selling it. You'd think that Samsung's other big rival would be scrambling to follow suit. Surprisingly, Huawei is saying it's Mate X foldable phone isn't yet ready for releasing to the public.
Given the PR nightmare that Samsung went through after the Galaxy Fold started failing left and right. Also given that Huawei can't risk tarnishing its troubled image even further, it's unsurprising that it will put its full weight on its stable brands first.
Huawei's official statement is that the Mate X is still undergoing optimization to meet the company's stringent and high quality requirements. Company directory of consumer business for mobile phones He Gang admitted that it's actually taking a lot longer and is requiring more effort than initially anticipated. And if it doesn't meet those requirement, it won't put out the phone.
Those are rather strong words but also quite a U-turn from its equally strong statements a few months ago when it showed off the Mate X to the public. It was a public showing but was a hands-off affair because of the fragile nature of the device. It basically has the same problem with the plastic protective film that could be mistaken for a screen protector. Without having been put into the public's hands, however, no one but Huawei knows if there had been other design flaws as well.
As to when that day will come, even Huawei isn't sure. It's sure, however, that it won't be driven by Samsung's own release schedule. Given how OEMs seem to have become more cautious about foldable devices, Huawei might not have that much competition to worry about anyway.