Huawei Mate 30 Pro repair is moderately easy as shown by iFixit teardown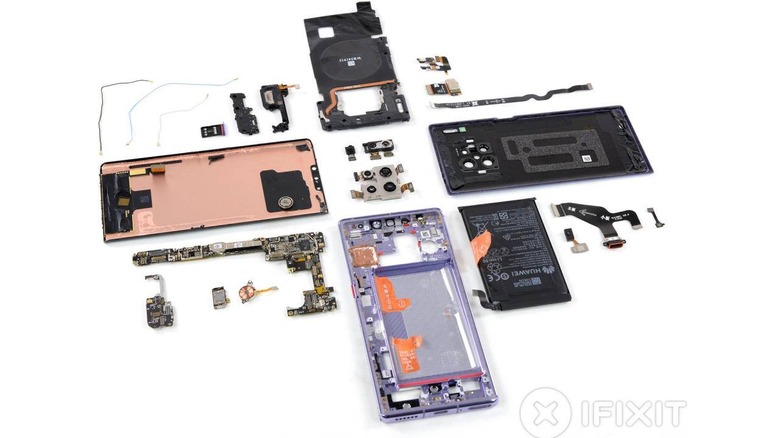 If you strip away the uncertainty around it, the Huawei Mate 30 Pro is arguably one of this year's top Android smartphones. For those in China that never had official access to Google apps and services anyway, that may already be the case. Presuming it ever this prolonged nightmare soon, it could still make up for lost time thanks to its standout features. But being a top smartphone doesn't exactly make the Mate 30 Pro easy to repair. Fortunately, as self-repair experts iFixit found out, it's not that hard to repair either.
Make no mistake, opening up the phone is still a risky chore thanks to the glass sandwich and strong adhesive. Luckily, it's no longer a rarity and the tools and processes for taking a phone apart is pretty refined at this point. Fortunately, too, the materials Huawei use aren't so fragile to break so easily.
There are fortunately no hidden surprises and traps inside either. Cables stay out of the way and the parts that are modular are mostly held down by standard Philips screws or LEGO-like connectors. There's even a battery pull tab though the battery remains sticky to pull out. And, as mentioned, many parts are modular so can replaced quite easily. Provided you have access to replacement parts, of course.
So what stops the Mate 30 Pro from getting a high repairability score? More than the tedious process, the fact that the screen is curved at the edges and glued tightly to the frame, making it extremely dangerous to remove it. Pulling out the battery is also comparatively easy but getting to the battery in the first place can be time-consuming.
The Huawei Mate 30 Pro gets a 5 out of 10 from iFixit, which is quite a relief from the barely repairable phones of today's generation. Unfortunately, it may be moot for a phone that won't get widespread distribution outside of China.