Huawei Honor 8 Pro Review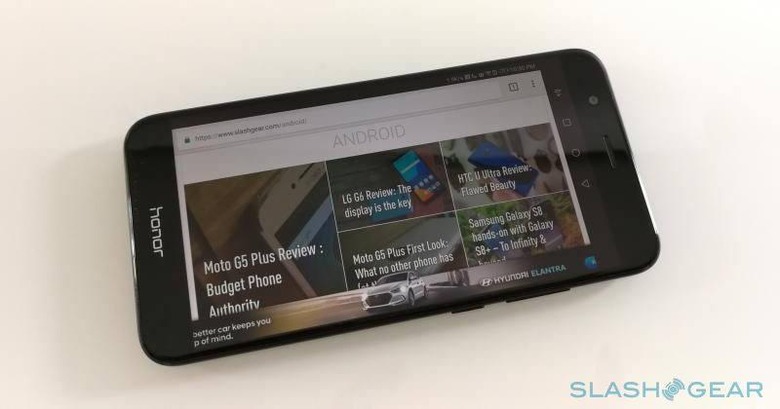 Just when you thought you've seen all the Android flagships that this half of 2017 has to offer, along comes Honor to blow your presumptions away. Many might brush off this Huawei sub-brand because it is, well, a sub-brand. That, however, would be a grave mistake with the Honor 8 Pro. Because as far as this latest Honor flagship is concerned, it could have been called the "Huawei P10 Plus Lite". Which is to say, it's pretty darned impressive. Especially for something that comes well under this year's high-end smartphone prices.
Design
Let's face it. A lot of consumers will knock the Honor 8 Pro off for looking like an iPhone knock off. Admittedly, that impression might be warranted. You have the same soft curves on the edges and the same all-metal unibody build. It even has the very conspicuous antenna lines though, thankfully, not as bad as the iPhone 6 and 6s.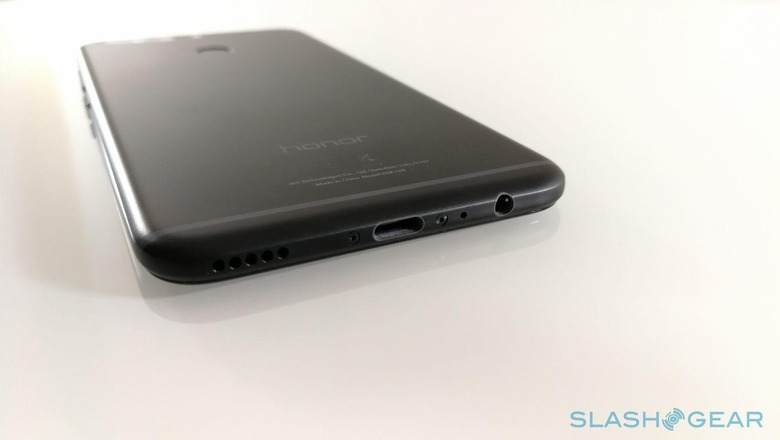 There are subtle differences, of course, and the biggest one is the rear camera bump. Or rather, the lack of it. Despite being only 6.97 mm thin, Honor has seemingly done the impossible and made the camera bump disappear. What you get is one, flat, continuous rear what won't rock when placed on a flat surface.
You'd be doing yourself a great disservice if you stopped at how the Honor 8 Pro looked. If you manage to get past the all too familiar surface, you'll discover a treasure trove of features you'd only find in more expensive smartphones this time of year.
Specs
Calling the Honor 8 Pro a "Lite" version of Huawei's P10 Plus is actually not too far-fetched. Actually the Honor 8 Pro is larger than the P10 Plus, so we can't really call it "mini" either. But for almost all intents and purposes, the two are eerily similar, give or take a few misses.
With the Honor 8 Pro, the company is jumping onto the QHD bandwagon at long last. Previous models would settle for 1080p Full HD, even at 5.7 inches like this one. It is powered by the latest Kirin 960, the very same processor inside both the Huawei P10 and the P10 Plus. There's also an 8 megapixel front camera, exactly like those other two.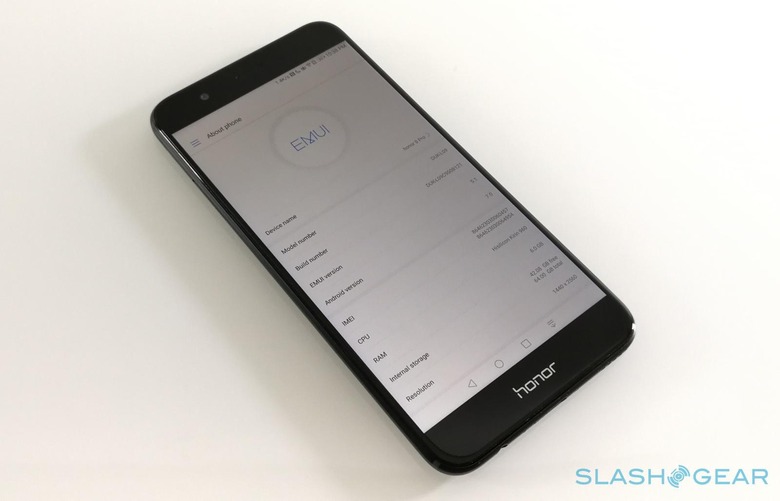 Of course, there are differences as well, and, quite surprisingly, for the better. Unlike the Huawei P10 Plus, for example, the Honor 8 Pro only has one memory configuration: 6 GB of RAM and 64 GB of expandable storage. And also unlike the P10 Plus, the Honor 8 Pro has a larger 4,000 mAh battery that's promised to last even longer but still charge just as fast. Here's a rundown of those juicy numbers:
• Operating System: Android 7.0 Nougat, EMUI 5.1• CPU: Huawei Kirin 960, octa-core 4x2.4 GHz + 4x1.8 GHz• RAM: 6 GB• Storage: 64 GB, expandable up to 128 GB• Display: 5.7 inches, 2560x1440 QHD (515 ppi)• Main Camera: 12 MP + 12 MP f/2.2• Secondary Camera: 8 MP f/1.9• Connectivity: Wi-Fi 802.11 a/b/g/n/ac, 2.4 GHz/5 GHz, Bluetooth 4.2, micro USB, 3.5 mm headphone jack• Battery: 4,000 mAh, fast charging• Dimensions: 157 x 77.5 x 6.97 mm• Weight: 184 g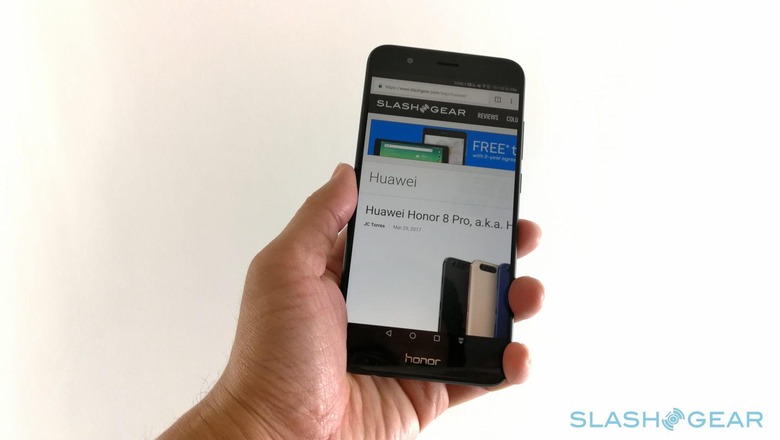 The bottom line here is that the Honor 8 Pro is almost, blow for blow, equal to the Huawei P10 Plus, which is no slouch in any department. The Kirin 960 is one of the underestimated powerhouses in the mobile processor market, and Huawei's EMUI 5.1 promises even more performance optimizations on the software side.
Of course, the Honor 8 Pro isn't the Huawei P10 Plus, so something, other than the design, has to be different. Or to put it bluntly, worse. Sadly, that comes down to the cameras, but it isn't as bad as it sounds.
Camera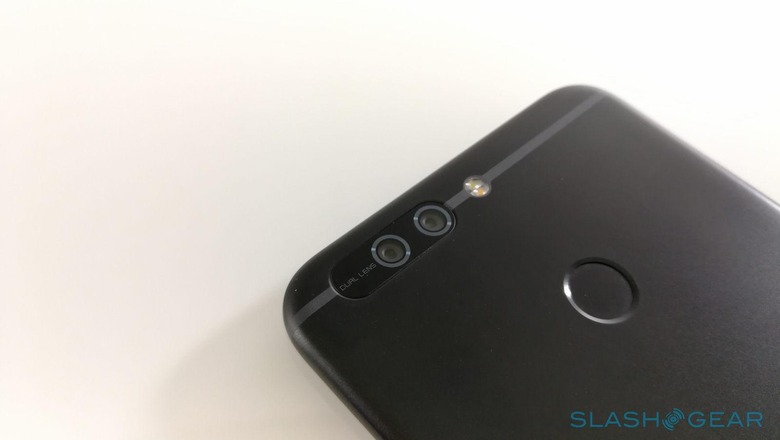 Huawei has found its calling in dual camera smartphones and that DNA has naturally been inherited by is sub-brand as well. Unfortunately, it couldn't inherit everything (otherwise, it would be a clone, wouldn't it?). Some things, like a privileged contract with famed camera maker Leica, are reserved for the bigger brand.
Here, the Honor 8 Pro had to settle for a bit less. Instead of the P10 Plus' massive dual 20 megapixel f1/.8 sensors, the Honor 8 Pro only gets a 12 megapixel f/2.2 combo, almost similar to last year's Huawei P9. Almost. There is no trace of Leica here, however, which would give some more professional mobile photographers pause for thought.
In practice, however, the Honor 8 Pro still packs quite a punch in this aspect, better than its rivals on this tier. Photos, especially in bright light, are bright and colors are quite vivid. With the right manual settings, you can get near-professional output without having broken your bank account. Of course, there are tons of modes and features that ad a bit of flavor to your photos and videos, like the now common Beauty mode. The "wide aperture mode" is probably going to give the most interesting effect, blurring the background for a bokeh effect.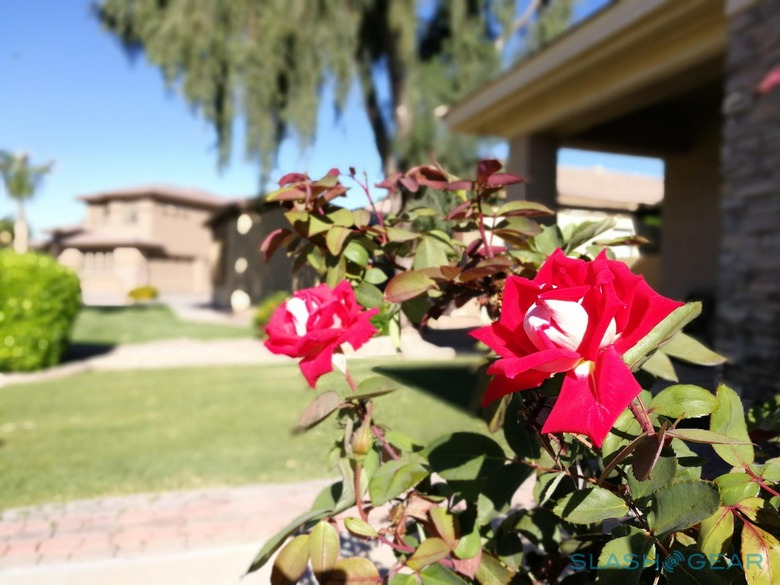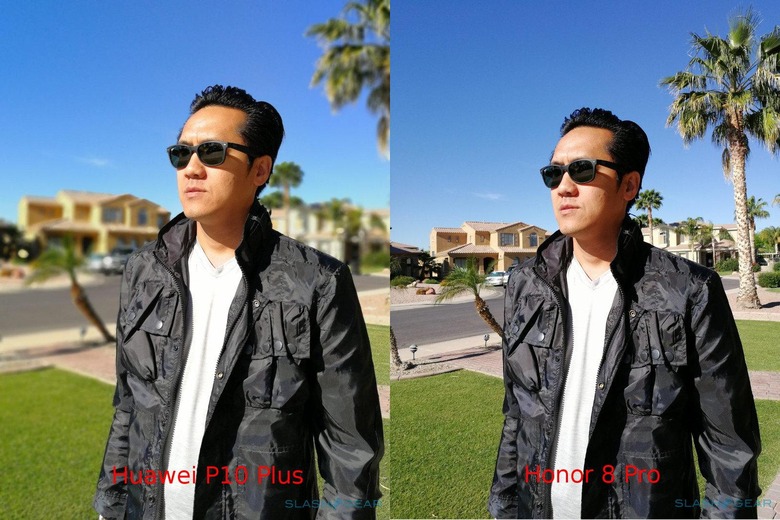 Naturally, it has its shortcomings, especially in handling less than ideal lighting situations. Then again, even the Huawei P10 Plus, with its f/1.8 aperture, sometimes falters there. What chance does an f/2.2 has then? And unlike the P10 or P10 Plus, the Honor 8 Pro's front camera doesn't have extra features to boast of. It's not bad, definitely, but nothing to fall head over heels either.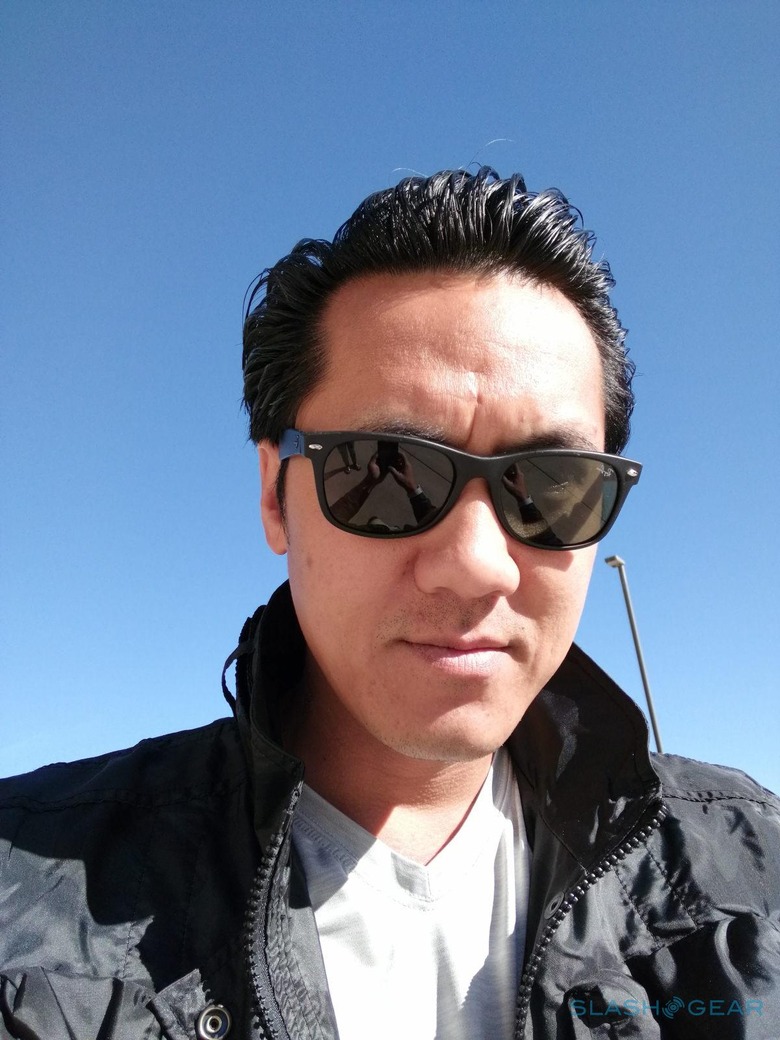 Wrap-up
The Honor 8 Pro is definitely one of the unexpected surprises of the smartphone market this year. You would have never expected that Honor, whose smartphones so far have been on the far side of mid-range, would come so close to Huawei's own flagship while still remaining within reach for many consumers. That translates to around 500 EUR, roughly $540, still well below the $700-800 tags on this year's premium handsets.
It's not perfect, mind you, but it gets damned close, especially for that price. Sure, you won't get FullVisions or Infinity Displays, Quad DACs or even Leica lenses. But you still get a solid performing smartphone with a very acceptable camera at a bargain. You might call it the "poor man's Huawei P10 Plus" or even the "iPhone 7 Plus for Android fans", but don't let that prevent you from seeing what the Honor 8 Pro truly is: one of if not the most formidable Android smartphones to hit the market this year.